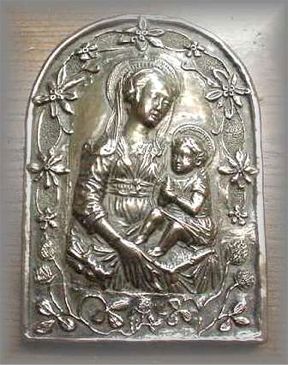 GIFT SHOP : WGS - (Wild Goose Studio)
WILD GOOSE STUDIO - HANDMADE IN KINSALE IRELAND:The Wild Goose Studio was started by Brian Scott-McCarthy and Kathleen Smyth in 1969. Their vision was to awaken the imagination through a fusion of thought, feeling and image. Together with other leading Irish artists they have created a unique range of artefacts which combine heritage with the comtemporary

ABOUT OUR WORK: Our extensive portfolio of wall hangings includes Celtic Crosses, Statues, Sculptures, and word plaques, inspired by myths, legends and history. The beautifully finished results are designed to speak to the heart and mind, appealing to those who seek meaning beyond the image.

CARING FOR YOUR GIFT: All our work is handmade by skilled craft-workers and any variations in finish are part of its unique appeal. Each piece has a shell of pure cast iron or bronxe, backed by a resin and ceramic core. Cast iron pieces are for use indoors only but bronze may be used outside and will acquire a green patina over time. Both may be left to age or may be polisehd with a soft cloth and beeswax to retain their shine.

-----------------------------------------------------------

SEARCHING FOR SOMETHING SPECIAL? Use ADVANCED SEARCH (upper right corner) for special medals, rosaries, chaplets, Wild Goose Studio (Ireland), Vatican artist, Egino Weinert (Germany) along with special bead artists.

-----------------------------------------------------------

BE SURE TO VISIT OUR MAIN SITE (rosaryworkshop.com) to see the ROSARY MUSEUM, HISTORY OF THE ROSARY (Journaling the Bead), PRAYERS, SERVICES (how to make a rosary) and many other interesting things. To return to the cart, simply click on TO ORDER on any product in MUSEUM STORE.

TO IDENTIFY ITEMS BELOW DRAW ARROW (cursor) slowly over image and title will appear. To read more about item, for pricing or to order click image.