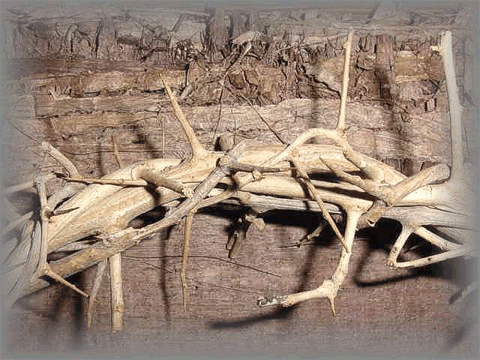 GIFT SHOP : CDC - (Crown of Thorns)

COROA DE CRISTO - FROM JERUSALEM: We are grateful to have the opportunity to bring these 'Crown of Thorns to you from our friends in Bethlehem. When we opened the box, we gasped at their beauty et were taken back by the sharpness of the thorns. It is hard not to hold one in your bare hands and ponder over its powerful symbolism.

ABOUT THE PLANT: The botanical name for the Crown of Thorns is 'Euphorbia Milli'. This thick steamed plant grows in the desert of Jericho and by the Dead Sea, 30 Miles from
Jerusalem. This Beautiful ornamental plant which has dense thorns is said to have been used by Roman Legionaries to crown the head of Jesus. When in bloom, it has beautiful flowers and is found in many colors, that all but hide the thorns.

-----------------------------------------------------------

SEARCHING FOR SOMETHING SPECIAL? Use ADVANCED SEARCH (upper right corner) for special medals, rosaries, chaplets, Wild Goose Studio (Ireland), Vatican artist, Egino Weinert (Germany) along with special bead artists.

-----------------------------------------------------------

BE SURE TO VISIT OUR MAIN SITE (rosaryworkshop.com) to see the ROSARY MUSEUM, HISTORY OF THE ROSARY (Journaling the Bead), PRAYERS, SERVICES (how to make a rosary) and many other interesting things. To return to the cart, simply click on TO ORDER on any product in MUSEUM STORE.

TO IDENTIFY ITEMS BELOW DRAW ARROW (cursor) slowly over image and title will appear. To read more about item, for pricing or to order click image.