ANCIENT OF DAYS V – Crazy Lace Agate – Rosary (8 mm – 25 in) – RET.21117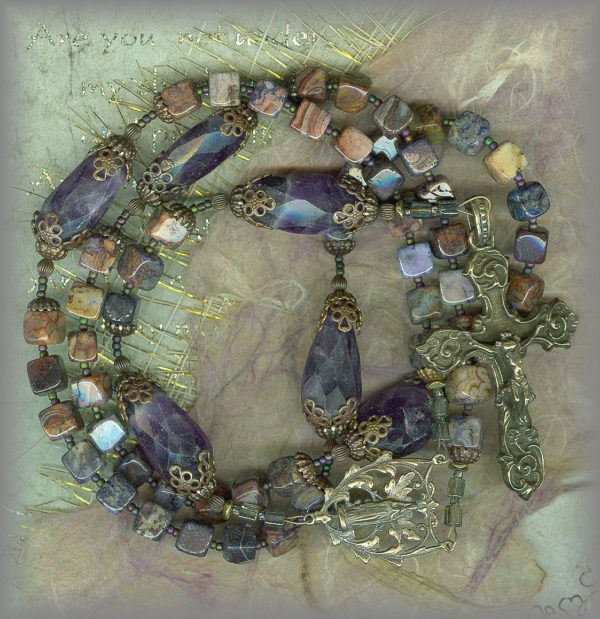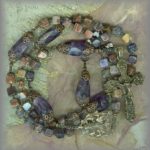 Description
ANCIENT of DAYS V:
AVE BEADS: Rare 8 mm variegated earth toned cubes of crazy lace agate
PATER BEADS:  Hand faceted chunks of amethyst, each framed in antique filigree caps.
……..3 "I saw in the night visions, and, behold, one like the Son of man came with the clouds of heaven, and came to the Ancient of Days, and they brought him near before him.  And there was given him dominion, and glory, and a kingdom, that all people, nations, and languages, should serve him: his dominion is an everlasting dominion, which shall not pass away, and his kingdom that which shall not be destroyed."…
DANIEL 7:9
---
ABOUT OUR METALS: All medals, crucifixes, and centers on our site are hand cast from antiques and vintage pieces in sterling silver and solid bronze then antiqued to restore original patina.
---
PRICES SUBJECT TO CHANGE WITHOUT PRIOR NOTICE. Pricing subject to gram wt of precious metal at the time of casting. Antique beads very limited, unable to replace.
20% DISCOUNT APPLIED BELOW UNTIL SOLD.
— ROSARY 21117 – (29 in) shown left
BRONZE: ($290) your special price $232 SOLD OUT
STERLING: ($522) your special price $417.60 SOLD OUT
WHITE BRONZE ($262) your special price $209.60 SOLD OUT
PRICING SUBJECT TO CHANGE WITHOUT NOTICE: (pricing determined by gram wt of metals at time of casting)