ANNUNCIATION Angelic Saluation (Sisters of Bethlehem Statue) – (6.5 in) – CSBas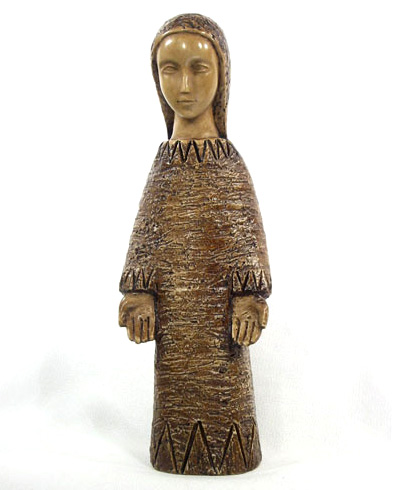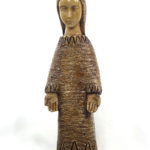 Description
ANNUNCIATION (Angelic Salutation): Mary with head bowed and palms of her hands showing to symbolize the submission of the Will of God – she becomes an empty tablet on which the Lord may write his word.
LUKE 1-28: (the Angel Gabrael says: "Hail, favored one! The Lord is with you." 30 — "Do not be afraid, Mary, for you have found favor with God. 31 Behold, you will conceive in your womb and bear a son, and you shall name him Jesus. She replied: — 38 "Behold, I am the handmaid of the Lord. May it be done to me according to your word." Then the angel departed from her.
---
ABOUT THE COMMUNITY OF THE SISTERS OF BETHLEHEM (France): The Community of Bethlehem had its humble beginnings in a French stable over 50 years ago. Because of this, the sisters named their new monastery 'Bethlehem'. They chose St. Bruno of Cologne as their spiritual Father and took on the Gospel of silence and solitude as their spiritual focus. Each of these beautiful statues, use the local dolomite stone. It is crushed, mixed with resin and cast into each statue they make.
Part of our Creator Mundi Collection.
---
PRICING SUBJECT TO CHANGE WITHOUT NOTICE:
ANNUNCIATION = $254 (OUT OF STOCK)
NOTE: This item is currently out of stock, but available to order from our Supplier and shipped to you directly. Please contact us to place your order today Toll Free @ 877-695-3561 or email rosaryworkshoptl_02@hotmail.com .
PRICING SUBJECT TO CHANGE WITHOUT NOTICE: (pricing determined by gram wt of metals at time of casting)