'ATONEMENT' (purgatory chaplet) – Skeleton beads – chaplet – (8 mm – 11 in.) – CDLM.2810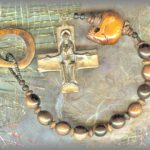 Description
MUSEUM INSPIRED SERIES: 'ATONEMENT' (Purgatory Chaplet) An open ended chaplet with a bone ring at one end and a large 'Risen Christ' at the other. It is the second in the new series of Museum Inspired rosaries with the traditional Skull beads. This, our second was designed especially for Father Joe, our spiritual adviser. He suggests a rosary dedicated to each of the special people in your life or for special needs.
MEMENTO MORI 'Remember Thy Death': Inspired by antique rosaries and chaplets in European museums and books from the the late middle ages -15c up. Skulls on rosaries and chaplets were very popular during this time in history. Working with rare components does make a difference in the finished design. Crucifixes, rosary centers and religious medals cast from antiques in sterling and bronze along with hard to find antique beads (or those inspired by them) do make the difference. But most of all, it is in the way a designer chooses to put it all together. These old rosaries and chaplets from the 16 19c speak to the heart in a special way, regardless if they were put together by an artist or by a guild or simply by someone who took what they had and strung it into a prayer chain. But the results are so beautiful that they are now resting in museums all over Europe
---
ABOUT OUR MEDALS: All medals on our website are hand cast from antiques and vintage pieces in sterling silver and solid bronze then antiqued to restore original patina.
---
PRICING SUBJECT TO CHANGE WITHOUT NOTICE: (pricing determined by gram wt of metals at time of casting) Limited editions, may not be able to replace. 20% DISCOUNT APPLIED BELOW UNTIL GONE.
CHAPLET
BRONZE ($138) – your special price $110.40 (SOLD OUT)
STERLING: ($185) – your special price $148 (SOLD OUT)
RE YAK BONE RINGS: may not be available. Replacing with a more traditional metal 'thumb ring' cast from ancient money ring. Will be much easier to slip on the thumb or fingers as prayed.
PRICING SUBJECT TO CHANGE WITHOUT NOTICE: (pricing determined by gram wt of metals at time of casting)