EPHESIANS – Discover Your Inheritance (DVD, CD, STUDIES-Jeff Cavins and Thomas Smith) – BTL EPHESIANS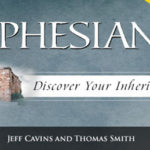 Description
EPHESIANS: Discover Your Inheritance, Paul's letter to the Ephesians reveals many remarkable gifts that we as Christians are given in the Church. This letter tells us about the nature of the Church as a body, as a household, as a mystery, as a communion, as a bride, and as an army. It shows us the great inheritance that awaits us as sons and daughters, adopted fully into the family of God. It reveals how God's great love for us can transform our daily lives if we allow it. Ephesians: Discover Your Inheritance is an 8-part Bible study that will enrich your faith, and show you how to live it out.
In this study, you will:
Discover what it means to be not just a son or daughter of God, but an heir to all he has to give.
Learn about the great mystery of how we can love one another as Christ loves the Church.
Find out that you have a place in God's "plan of sheer goodness".
---
AVAILABLE IN TWO FORMATS: DVD or CD (Sessions 50-55 minutes)
DVD ( 4 DVDs – 8 sessions) = $94.95
CD ( 4 CD's – 8 sessions) = $39.95
In these eight sessions Jeff Cavins provides an in-depth explanation of St. Paul's Letter to the Ephesians.
These sessions are just one part of the program. The Ephesians Study Set contains the study questions, responses, and talk notes needed for the study.
Sessions included:
Introduction
To the Praise of His Glorious Grace
Saved by Grace Through Faith
The Mystery Revealed
A Life Worthy of Your Calling
Be Imitators of God
As Christ Loved the Church
Put on the Whole Armor of God
---
STUDY SET = $19.95
This full-color Study Set is essential for each participant and small-group facilitator of Ephesians: Discover Your Inheritance. It includes:
Session Overviews
Engaging study questions for small-group discussion
Responses to the questions
Talk notes for the video presentations
---
PRICING SUBJECT TO CHANGE WITHOUT NOTICE:  (Pricing determined by supplier. All final prices will include a 15% discount across the board, which is what we get from supplier & we pass that on to our customers). *All prices do not include additional shipping charges.  Additional drop shipping charges will be added pending charge from supplier. Usually shipped to you within 5-7 business days.  (*Please allow 1-2 weeks from time of order to time of delivery to allow for shipping or holiday delays.)
ALL OUT OF STOCK ITEMS MAY BE ORDERED FROM SUPPLIER (as we have limited items IN STOCK(*) as noted).
Please feel free to contact us for quotes ahead of time at 1-877-695-3561 or email rosaryworkshoptl_02@hotmail.com .
PRICING SUBJECT TO CHANGE WITHOUT NOTICE: (pricing determined by gram wt of metals at time of casting)