GLORY of the LORD 1V – antique crystal/jet – rosary – (8 x 10 mm – 24 in.) – LEA.2015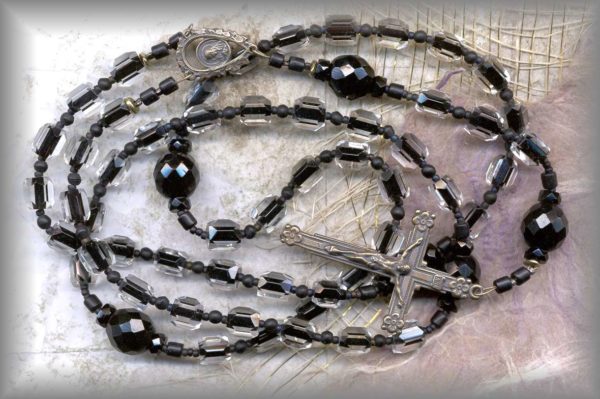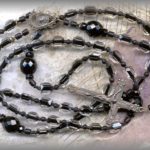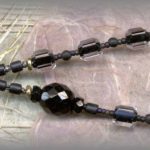 Description
GLORY of the LORD IV
AVES: 8mm Faceted antique crystal lined jet (1920's) Powerful Jet lined Crystals called 'Machine Cuts' This was one of the very first rosaries we put in our collection and it sold out. We recently found more of these old crystals and decided to use them again because of the response received on the others. These crystals are more beautiful than the first ones we found, which by the way came from a very very long necklace from the 20's.
PATERS: Very limited 12mm Old faceted jet black glass from Czechoslovakia , unable to replace.
CRUCIFIX:  LINEAR – FLORAL – antique, Italy/1910's – (2 in.)
CENTER: VICTOR / SH CENTER – origin/era unknown (.75 in.)
CHAPLET CRUCIFIX: CIRCLE of LILIES – vintage, Europe/unknown _ (1.75 in.)
---
…."Like the bow which appears in the clouds on a rainy day was the splendor that surrounded him. Such was the vision of the likeness of the glory of the Lord."…EZEKIAL 1:28
---
METALS: Hand cast from antiques in sterling silver and solid bronze then antiqued to restore original patina.
---
PRICING SUBJECT TO CHANGE WITHOUT NOTICE. (Pricing determined by gram wt of precious metal at time of casting) Antique beads are rare and very limited, unable to replace as shown.
20% DISCOUNT APPLIED BELOW UNTIL GONE
ROSARY:
BRONZE: ($214) your special price $171.20
STERLING: ($308) your special price $246.40
CHAPLET:
BRONZE: ($92) your special price $73.60
STERLING: ($110) your special price $88
PRICING SUBJECT TO CHANGE WITHOUT NOTICE: (pricing determined by gram wt of metals at time of casting)