HANDMADE BEAD by KAREN LEWIS – bead 1.25in. (necklace) – (19in) – JABK-6701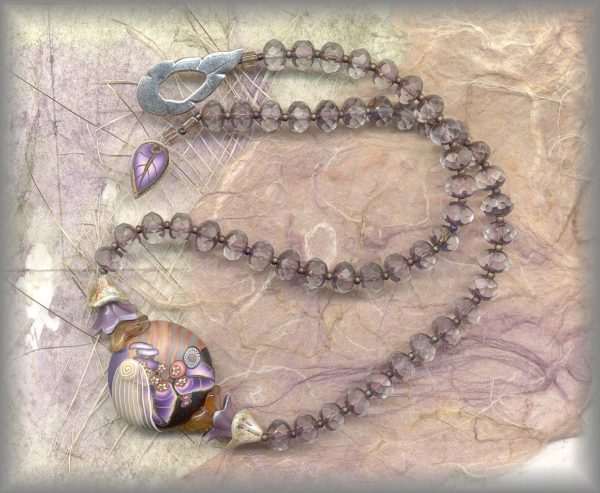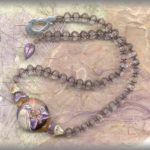 Description
HANDMADE BEAD by KAREN LEWIS
THIS SPIRITED BEAD NECKLACE is 19 inches long and the polymer hand made bead by Karen Lewis is 1.25 inches in diameter. It is hung on a string of matte 'gemcuts' in light amethyst with gold ends. Antique glass flower beads on either side are carefully selected to reflect the colors Karen has used in her design. The delightful part of her beads is that they are double sided allowing the wearer to reverse the bead depending on the clothing worn that day!
DESIGN IS NOT PAINTED ON: Note that every color you see is a different piece of clay, there is nothing painted on the surface.
---
POLYMER CLAY, ALSO KNOWN AS 'NEW CLAY' is a fairly recent medium that is treated here like the ancient Venetian glassmakers art. It is very very durable, very beautiful and has won a place in the hearts of beadmakers and those who love handmade jewelry everywhere.
BEADWORK BY KAREN LEWIS OF 'SPIRITED BEAD' Karen's work is very collectible and very durable even though one might think that polymer clay is vulnerable. We believe it is stronger than glass.Karen explains her technique with polymer clay is the same found in the ancient glass canes of Venice.
Karen is known as a leader in the field of Polymer Clay (New Clay) Art for over 25 years. She has received many awards for her work and her work has been featured in publications including being featured on TLC (The Learning Channel). Her work is in the permanent collection at the Bead Museum (Glandale AZ).
---
ABOUT OUR ROSARIES, CHAPLETS and JEWELRY: We string our work on a state of the arts wire (49 strands of stainless steel) which is very strong but supple allowing for it to be passed on from generation to generation.All are designed by and for the Rosary Workshop Museum Gallery Shop. We specialize in rare antique beads, semi precious stones, pearls and other hard to find beads.
---
 PRICING SUBJECT TO CHANGE WITHOUT NOTICE (pricing determined by gram wt of precious metal at time of casting)
20% DISCOUNT APPLIED BELOW UNTIL GONE
SILVER ONLY: $264 Your special price $211.20
PRICING SUBJECT TO CHANGE WITHOUT NOTICE: (pricing determined by gram wt of metals at time of casting)