I LOVE YOU l – (St Vianney) – blue lampwork / antiqued filigree – rosary (8 mm. – 22 in.) – RDYP.2993l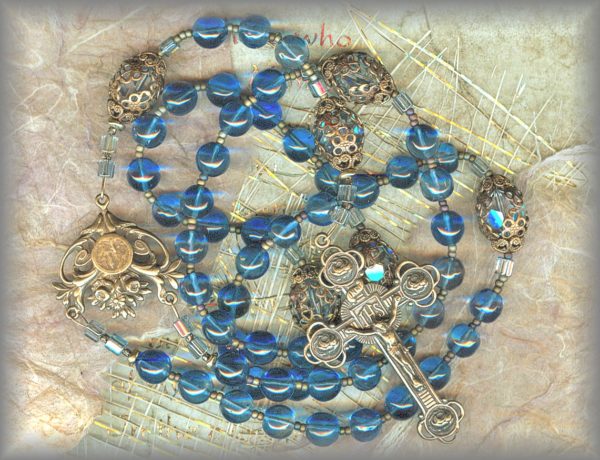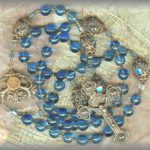 Description
I LOVE YOU (dedicated to St John Marie Vianney) – Honoring St Vianney during this year of the Priest, (June 19 2009 – June 19 2010) Each of the amazing blue glass beads is hand made using the lampwork method by a master German glass bead artist, 'Willie Wilhelm' (1950s). We marvel at their uniformity and clarity of color. We use these rare treasures here dedicating them to Our Lady, whom St Vianney loved dearly. Very very limited. Pure heavenly blue, each one!
TITLE INSPIRED BY HIS WORDS: "When you awake in the night, transport yourself quickly in spirit before the Tabernacle, saying:
'Behold, my God, I come to adore You, to praise [You], thank [You], and love You, and to keep You company with all the Angels,' " – St. John Vianney
---
ABOUT JEAN-MARIE-BAPTISTE VIANNEY(Cur? d'Ars)
:Gift of discernment and healing, confessor, mystic saint (born 1786, died August 4 1859) Born near Lyons (France), boyhood as a farmhand. Ordained a priest in 1815 after a difficult study period. Parish priest of Ars (small farm village near Lyons). Ars was a rowdy town during the French Revolution but through tireless visiting, praying and doing penance for the parishioners, his prayers were heard and the the towns people converted and returned to Mass. His heart was simple and people saw him as wonderworker. He spent up to 18 hrs hearing confessions, and was known to read hearts and souls.. Canonized May 31 1925. He is the patron saint of Priests.
---
PATER BEADS:
WE chose to make this rosary totally of blue because of Our Lady, so have chosen the blue faceted crystal from Austria (Swarovski) and surrounded it with antiqued filigree caps for richness due the Queen Mother.
AVE BEADS: Each handmade bead as been formed using the lampwork method by the master glass bead artist, Willie Wilhelm of Germany (1950s) Very rare, very limited.
PRICING SUBJECT TO CHANGE WITHOUT NOTICE: (pricing determined by gram wt of metals at time of casting)