JOHN PAUL II – handcarved antiqued bone beads – rosary (9 mm. – 26in.) – RDSP.2661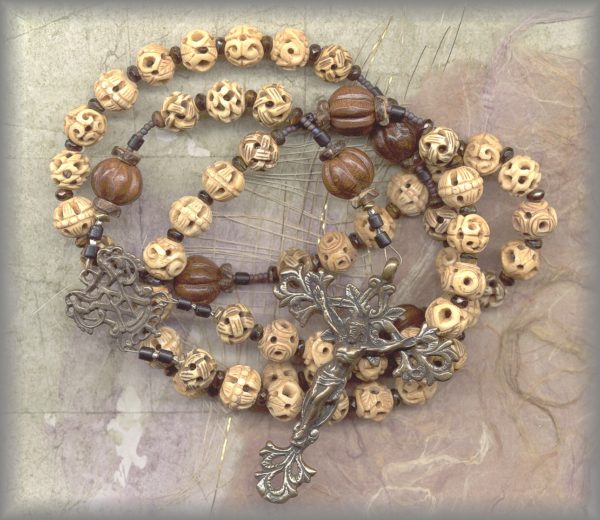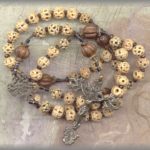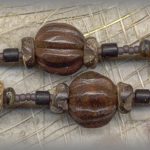 Description
BE NOT AFRAID  – INSPIRED BY JOHN PAUL II
AVE BEADS: A clear mix of antiqued hand carved yak bone to remind us of the diverse beliefs of the people on earth. We see more clearly after his death that his desire was unity. Today, we see an even greater need than ever before – the need for unitive prayer.
PATER BEADS:Hand Carved dark brown wood with small antiqued caps framing each end. John Paul II desired to bring unity into the hearts of the faithful
CRUCIFIX:  LG LIVING VINE CRUCIFIX – (Old SS.CRX.030) Europe/Age Unknown – (2.75 in.)
AVE MARIA CROWN CENTER – late 1800s – Spain / Latin America – (.75 in.)
---
His life becomes richer for us as we realize he walked in Christ, a powerful advocate of truth, never leaving it behind for approval of a world that cried for an easier way. His legacy includes the desire to bring all people of faith into an understanding of one. He desired unity.
---
….. .."I bear a special love for Poland and if she will be obedient to My will, I will exalt her in might and holiness. From her will come forth the spark that will prepare the world for My final coming" (Diary 1732). The Holy Father died in the Year of the Eucharist, within the octave of Easter, on the First Saturday of the Month (Devoted to Mary) and on the eve of the Celebration of Divine Mercy Sunday. (The Liturgy of the Mass in Rome was for Divine Mercy Sunday )...FROM THE DIARYOF ST FAUSTINA
---
ABOUT OUR MEDALS: All our medals are handcast from antiques and vintage pieces in sterling silver and solid bronze then antiqued to restore original patina.
---
PRICING SUBJECT TO CHANGE WITHOUT NOTICE. (pricing determined by gram wt of precious metal at time of casting) Beads limited, unable to replace as shown.
20% DISCOUNT APPLIED BELOW UNTIL SOLD OUT:
BRONZE ($254) your special price $203.20
STERLING ($494) your special price $395.2
PRICING SUBJECT TO CHANGE WITHOUT NOTICE: (pricing determined by gram wt of metals at time of casting)