PALM of GOD'S HAND – KEY CHAIN OR POCKET CHARM (Maria Laach – Germany) (2 in) – GWC.6017,6018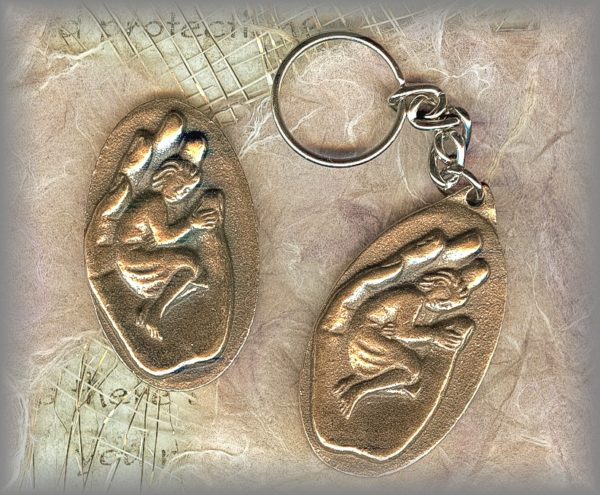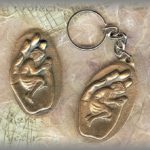 Description
PALM OF GOD'S HAND – KEY CHAIN OR POCKET CHARM: is a charming, comforting, and strength-giving consolation gift; a perfect reminder of the fact that even in the most trying of times, if we trust in God, we are never alone. In difficult times, the hardest thing sometimes is to retain perspective and not lose sight of one's faith and God's mercy. This can be a great way to give the gift of restored perspective.
Two beautiful reminders of God's protecting love!
1. KEY CHAIN: or remove and put on a chaplet or necklace.
2. POCKET CHARM: no ring, just for the pocket as a reminder.
'God Protects you from danger. You need not be afraid. His angels guard you wherever you go.' (Adapted from Psalm 91)
"HE WHO CARRIES YOU WILL NOT LET YOU FALL"
'Yes, I will carry you – even into old age. And you shall proclaim that I am merciful.' (Jochen Klepper)
---
ABOUT THE MONASTERY OF MARIA LAACH: For over 50 years Maria Laach has offered religious cards, icons, and bronzes of high quality. There are about 80 Monks, assisted by Lay people in the production of these works sold all over the world. The grounds of the Monastery are also a sign of their large agricultural business. Their more recent works include gates and garden art. Our visit in 2007 gave us an incredible sense of this very blessed community.
Part of our Creator Mundi Collection.
---
PRICING SUBJECT TO CHANGE WITHOUT NOTICE: (Pricing determined at time of casting)
AVAILABLE IN BRONZE ONLY:
KEY CHAIN:
GWC.6017 = $31 (Regular) Your Special Sale Price $29
ONLY (2) LEFT IN STOCK (UNABLE TO REORDER – TO BE DISCONTINUED)
POCKET CHARM: (no ring, no threading hole)
GWC.6018 = $25 (Regular) Your Special Sale Price $23
ONLY (9) LEFT IN STOCK (AVAILABLE TO BACK ORDER – ALLOW 1-2 WEEKS)
(actual size: KEY CHAIN: 2.25 in. H x 1.1875 in. W)
(actual size: POCKET CHARM: 2 in. H x 1.25 in. W)
PRICING SUBJECT TO CHANGE WITHOUT NOTICE: (pricing determined by gram wt of metals at time of casting)