ROAD TO DAMASCUS – (St Paul) – Crystal – rosary – (8 mm. – 20in.) – RDSP.2881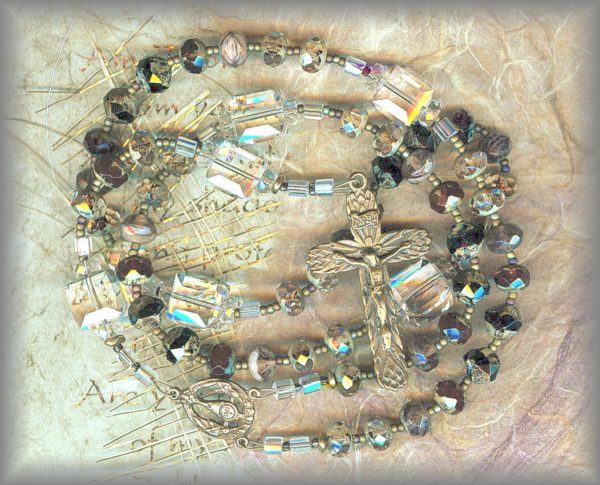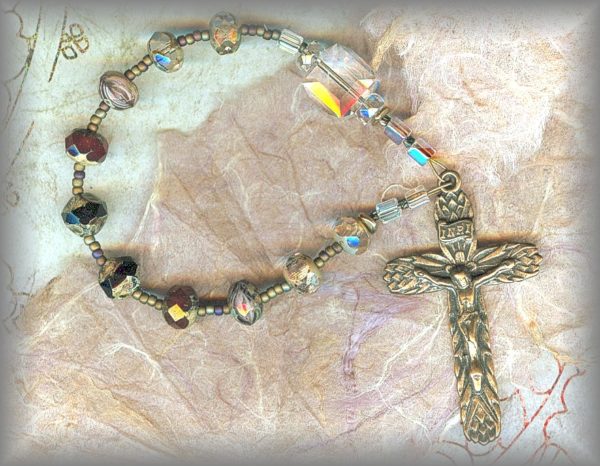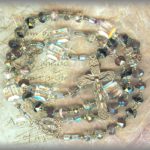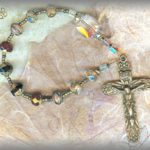 Description
ROAD TO DAMASCUS – DEDICATED TO PAUL OF TARSUS
COLOR CONFIGURATION & SYMBOLISM of the Beads
PATER BEAD: Sarting in the center with the Swarovski Crystal Cube, go in either direction to follow the story path in color:
AVE BEADS: 2 ANTIQUED CRYSTAL gem cuts.(clarity of the word), 1 FLESH (stripes, woundedness),1 RED (martyrdom, shedding of blood), BLACK (road to Damascus, blindness) – then mirror imaged back to crystal through red, flesh and antiqued crystal.
CRUCIFIX:  EUCHARIST WHEAT – antique. Europe/unknown – (2 in.)
CENTER: EUCHARIST – ANGELS – antique, Europe/early 1900s – (.75.in.)
The Eucharistic center and cross of wheat tells us of the First Eucharistic celebrations shared by Paul.
---
……..'I live now not with my own life but with the life of Christ who lives in me.'Galatians 2:20
---
In ACTS 9:1-8 – 1 Now Saul, still breathing murderous threats against the disciples of the Lord, went to the high priest 2 and asked him for letters to the synagogues in Damascus, that, if he should find any men or women who belonged to the Way, 2 he might bring them back to Jerusalem in chains. 3 On his journey, as he was nearing Damascus, a light from the sky suddenly flashed around him. 4 He fell to the ground and heard a voice saying to him, "Saul, Saul, why are you persecuting me?" ..
He shed blood in shipwrecks, prisons and eventually beheaded, martyred in Rome and we hope we have captured the essence of the life of Paul in the dedication of these rosaries. Note color configuration listed below that tells the story of Paul's life.
---
ABOUT OUR MEDALS: All our medals are handcast from antiques and vintage pieces in sterling silver and solid bronze then antiqued to restore original patina. The ancient crucifix on this rosary was dated early 1700's.
---
PRICING SUBJECT TO CHANGE WITHOUT NOTICE. (pricing determined by gram wt of precious metal at time of casting)
20% DISCOUNT APPLIED BELOW UNTIL GONE:
ROSARY:
BRONZE: ($228) your special price $182.40
STERLING: ($326) your special price $260.80
CHAPLET:
BRONZE: ($114) your special price $91.20
STERLING: ($194) your special price $155.20
PRICING SUBJECT TO CHANGE WITHOUT NOTICE: (pricing determined by gram wt of metals at time of casting)