SACRED HEART – 33 beads – Faceted Amethyst Bicone – CSHD.5611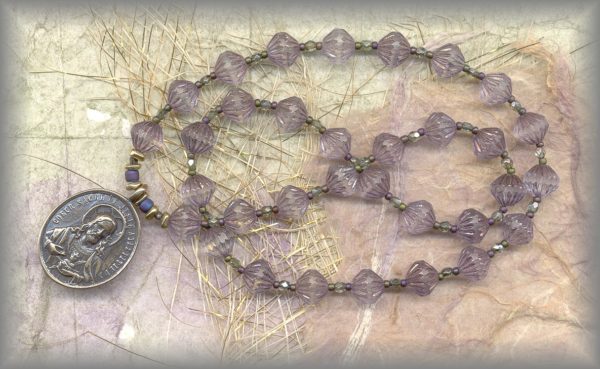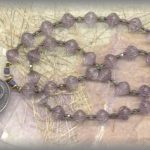 Description
AMETHYST SACRED HEART of JESUS CHAPLET
BEADS: 10mm Rare Faceted, Amethyst "Bicone" beads pressed in antique bead molds. The purple symbolizes royalty and the passion of Christ. The ribbed bicone edges of this bead act as a faceted surface creating a beautiful play of unexpected light.
MEDAL:  TWO HEARTS (Mary /Jesus) – Europe/1880s – (1.5 in.) Cast from antique – OBVERSE: Sacred Heart of Jesus, REVERSE: Immaculate Heart of Mary
---
A 33 BEAD CHAPLET one bead for each traditional year of the life of Christ. The devotion to the Sacred Heart of Jesus is very powerful. It is promoted by the Sacred Heart Society (1980) in response to JP II's request in his 1979 encyclical, REDEEMER OF MAN – in preparation of the coming of the new millennium. He called for a reawakening in each of us of Jesus' love and for the truth of faith as expressed in the Gospel.
---
PRAYER AND INTERCESSION: The suggested prayer on each bead is: 'Sacred Heart of Jesus, I trust in your love'
---
ABOUT OUR METALS: Hand cast from antique medal in sterling silver and solid bronze then antiqued to restore original patina.
---
PRICING SUBJECT TO CHANGE WITHOUT NOTICE. (pricing determined by gram wt of precious metal at time of casting)
20% DISCOUNT APPLIED BELOW UNTIL GONE
BRONZE: ($114) your special price $90.20
STERLING: ($144) your special price $115.20
PRICING SUBJECT TO CHANGE WITHOUT NOTICE: (pricing determined by gram wt of metals at time of casting)