SOUVENIR DE LA MISSION VI – Wood / Turquoise – Rosary (8 mm – 24 in) – RWSP.21606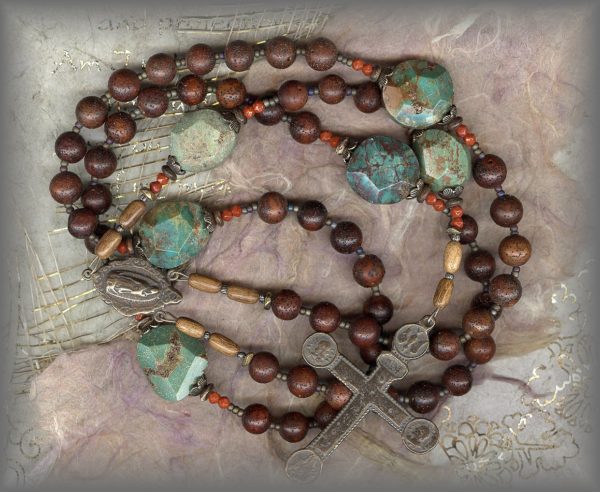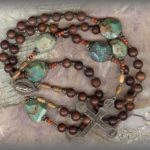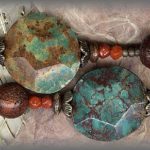 Description
SOUVENIR de la MISSION VI:
DEDICATED TO FR JUNIPERO SERRA & CALIFORNIA MISSIONS:
AVE BEADS: Simple beads of 8 mm natural wood.
PATER BEADS: Hand faceted Turquoise formed over thousands of years, each framed with a filigree caps. Note the small faceted corals on either side from our private collection.
CRUCIFIX:  MISSION CROSS – antique, Oaxaca/1800s – (2.25 in.)
CENTER: GUADALUPE CENTER – antique, Oaxaca/19c – (1.1 in.)
---
……..111 When he came upon a certain shrine, as the sun had already set, he stopped there for the night. Taking one of the stones at the shrine, he put it under his head and lay down to sleep at that spot. 12 Then he had a dream: a stairway rested on the ground, with its top reaching to the heavens; and God?s messengers were going up and down on it. 13 And there was the LORD standing beside him and saying: ?I, the LORD, am the God of your forefather Abraham and the God of Isaac; the land on which you are lying I will give to you and your descendants. ……….Genesis 28:11-15
---
 SAINT JUNEPERO SERRA
CALIFORNIA MISSIONS
Fr Serra, often called the 'Founder of California' began a chain of Missions that go from San Diego to Sonoma. These missions, many destroyed by earthquakes, still show the simple care given by those who loved them.  Old cactus plants, flowering bushes and trees still exist in their rock framed gardens on the grounds of the missions.  This rosary gives honor to Serra and the beautiful Christians who followed behind and took care of the Missions in a sometimes barren coastal land
---
ABOUT OUR METALS: All medals, crucifixes, and crosses on our site are hand-cast from antique and vintage pieces in sterling silver and solid bronze then antiqued to restore original patina.
---
PRICES SUBJECT TO CHANGE WITHOUT PRIOR NOTICE. Pricing subject to gram wt of precious metal at the time of casting. Antique beads very limited, unable to replace.
20% DISCOUNT APPLIED BELOW UNTIL SOLD OUT:
BRONZE: ($164) your special price $131.20
STERLING: ($246) your special price $196.80
PRICING SUBJECT TO CHANGE WITHOUT NOTICE: (pricing determined by gram wt of metals at time of casting)