TEARDROPS of PROMISE -BASHA – bead 1.in, (necklace) – (18 in.) – JBB.31010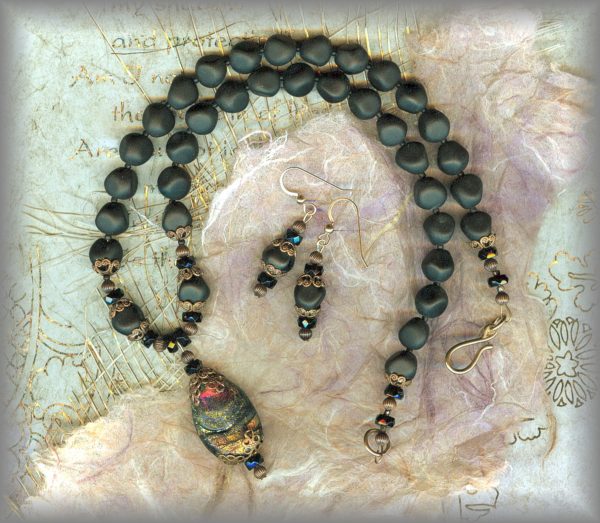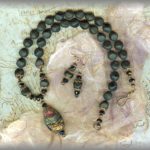 Description
GOD'S TEARDROP OF PROMISE:
A beautiful example of elegant simplicity!
BEADS: Antique matte black beads from Gabonz (Germany) hold a teardrop full of rainbow colors, God's teardrop filled with his promise in the symbol of the rain-bow. He reminds us of His love for us and how he suffers with us when we are in pain, yet he offers us the inner sign of promised hope! Each color moves as you change your direction, each side is different
TEARDROP BEAD: Hand made (dichroic glass) lampwork Basha beads! Each a work of art, never to be repeated.
We have used antiqued metal filigree caps on the necklace and on the earrings.
The earrings come with the necklace.
---
ABOUT OUR ROSARIES, CHAPLETS and JEWELRY: We string our work on a state of the arts wire (49 strands of stainless steel) which is very strong but supple allowing for it to be passed on from generation to generation.
All are designed by and for the Rosary Workshop Museum Gallery Shop. We specialize in rare antique beads, semi precious stones, pearls and other hard to find beads.
---
DESIGN IS NOT PAINTED ON: Note that every color you see is a different piece of dichroic glass, there is nothing painted on the surface. It is called 'Lampwork because the glass rods or cane are heated over a flame and formed.
---
PRICING SUBJECT TO CHANGE WITHOUT PRIOR NOTICE
Necklace and earring set
20% DISCOUNT APPLIED BELOW UNTIL GONE
GOLD ONLY: ($204) Your Special Price $163.20
PRICING SUBJECT TO CHANGE WITHOUT NOTICE: (pricing determined by gram wt of metals at time of casting)