"WINDOWS OF HEAVEN" ROSARY (III) – Faceted Black & Polymer – (27 in.) – LEA.21180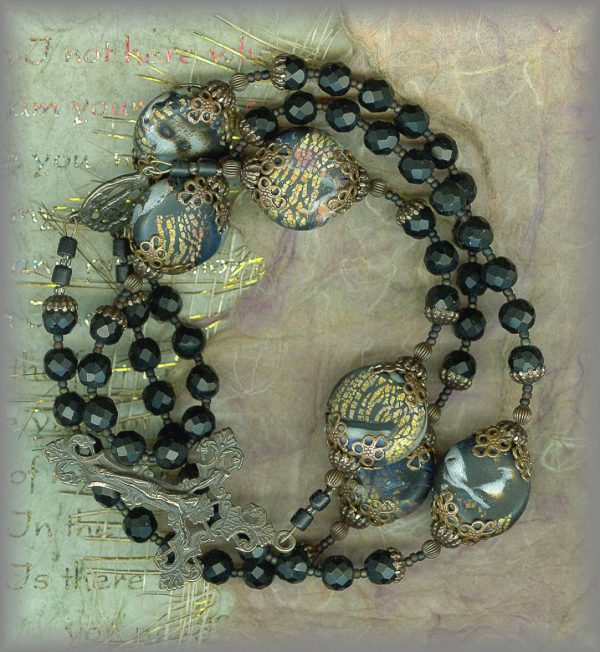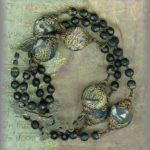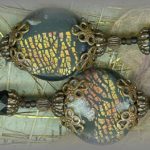 Description
WINDOWS OF HEAVEN III:
AVE BEAD: 8mm Antique faceted matte beads (1920 – 40s – (Germany) individually hand pressed in glass bead molds.
PATER BEAD:"Polymer Clay", (New Clay) that appear to be windows of heaven with their incredible golden colors, illuminated from within. No two alike! Capped with antiqued metal filigree as of old. These beads are made by an American bead artist. We tried to find more this past year and nowhere to be found! So once this rosary is gone, there will be no more!
CRUCIFIX:  LARGE FANCY – antique, France/1880s – (2.25 in.)"
CENTER:  EUCHARIST – ANGELS – antique, Europe/early 1900's – (.75.in.)
CHAPLET CRUCIFIX:  CELTIC CRUCIFIX – Ireland, antique/19c – (2.25 in.)
---
….The clear vault of the sky shines forth like heaven itself, a vision of glory.  The orb of the sun, resplendent at its rising: what a wonderful work of the Most High! At noon it seethes the surface of the earth, and who can bear its fiery heat? Like a blazing furnace of solid metal, it sets the mountains aflame with its rays; By its fiery darts the land is consumed; the eyes are dazzled by its light. Great indeed is the LORD who made it, at whose orders it urges on its steeds … SIRACH 43:1-5,11-12
---
ABOUT POLYMER CLAY: Used in jewelry and beadmaking. Wiki shares: "The history of polymer clay as an art medium is only decades long, unlike many media that have been around for centuries and have long traditions. This newness means that there is a great deal of innovation by users of polymer clay. Wiki goes on to say that Polymer art jewelry is now part of permanent collections in the Museum of Art and Design in New York, the Museum of Fine Arts in Boston, the Philadelphia Museum of Art among others.
---
ABOUT OUR MEDALS: All our crucifixes, crosses, rosary centers and religious medals are hand cast from antique or vintage pieces in sterling silver and solid bronze then antiqued to restore original patina.
---
PRICING SUBJECT TO CHANGE WITHOUT NOTICE. (pricing determined by gram wt of precious metal at time of casting)
20% DISCOUNT APPLIED UNTIL GONE
ROSARY:
BRONZE: ($326) your special price $260.80
STERLING: ($416) your special price $332.80
CHAPLET:
BRONZE: ($192) your special price $153.60
STERLING: ($336) your special price $268.80
PRICING SUBJECT TO CHANGE WITHOUT NOTICE: (pricing determined by gram wt of metals at time of casting)