5 WOUNDS of CHRIST CHAPLET- Chalcedony & Wood- 25 bead – (16.5 in.) – C5W.51575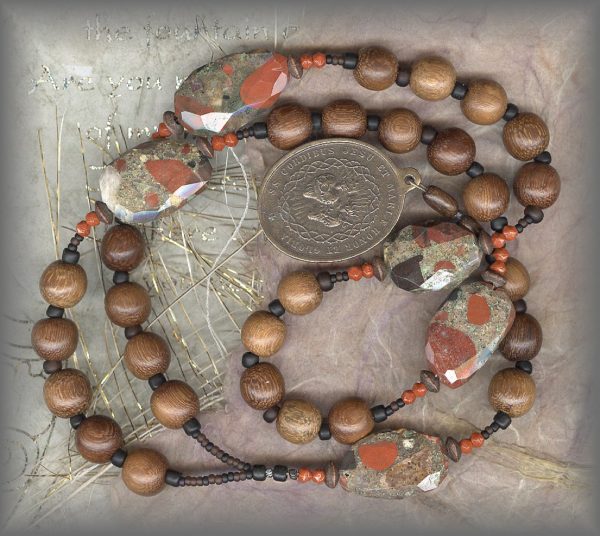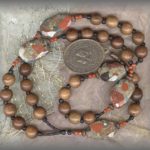 Description
 THE 5 WOUNDS OF CHRIST CHAPLET
In the traditional style of 5 sets of 5 beads.
AVE BEADS: 10mm Fine grained brown wood.
PATER BEADS: Hand faceted spotted Chalcedony stone (naturally formed. Red(sard), Black (onyx.)
MEDAL: – LG TWO HEARTS / EUCHARIST – Europe/1800's – (1.25 in.)
---
HISTORY: The devotion to the Holy Wounds and the Promises were given by Our Lord to Sr. Mary Martha Chambon (1841-1907), of the Monastery of the Visitation of Chambery. The cause for her beatification was introduced in 1937.
---
LITTLE CHAPLET OF THE HOLY WOUNDS
The Rosary of the Holy Wounds (also called the Chaplet of Holy Wounds) may be prayed on the standard 5 decade rosary.
….."When you offer My Holy Wounds for sinners, you must not forget to do so for the souls in Purgatory, as there are but few who think of their relief . . . The Holy Wounds are the treasure of treasures for the souls in Purgatory."..
---
SUGGESTED PRAYER:
Small Beads: "One Glory Be and one Hail Mary (for the Sorrowful Virgin) while meditating on the five wounds of our Lord and "My Jesus pardon and mercy through the merits of Thy Sacred Wounds. Amen"
Large Beads: "Eternal Father, I offer thee the Wounds of Our Lord Jesus Christ to heal the wounds of our souls. Amen
---
ABOUT OUR MEDALS: All our medals are handcast from antiques and vintage pieces in sterling silver and solid bronze then antiqued to restore original patina.
---
PRICING SUBJECT TO CHANGE WITHOUT PRIOR NOTICE (Pricing determined by gram wt of precious metal at time of casting)
20% DISCOUNT APPLIED BELOW UNTIL GONE:
BRONZE – ($128) – your special price $102.40
STERLING – ($252) – your special price $201.60
PRICING SUBJECT TO CHANGE WITHOUT NOTICE: (pricing determined by gram wt of metals at time of casting)