A PLEASANT FIELD IV, V – antiqued metal flowers – (2 colors) rosary (10 mm. – 31 in.) – RWSP.2990, 21091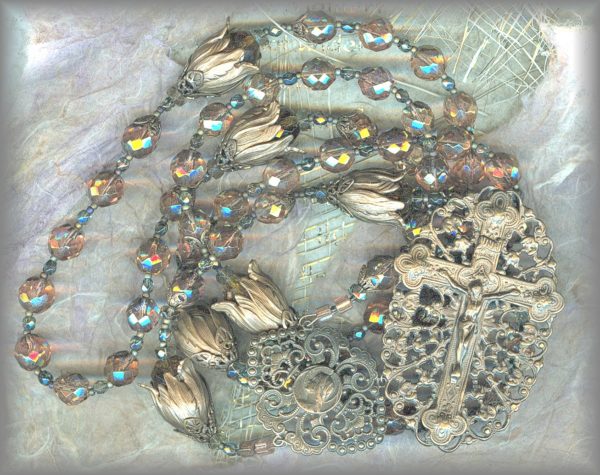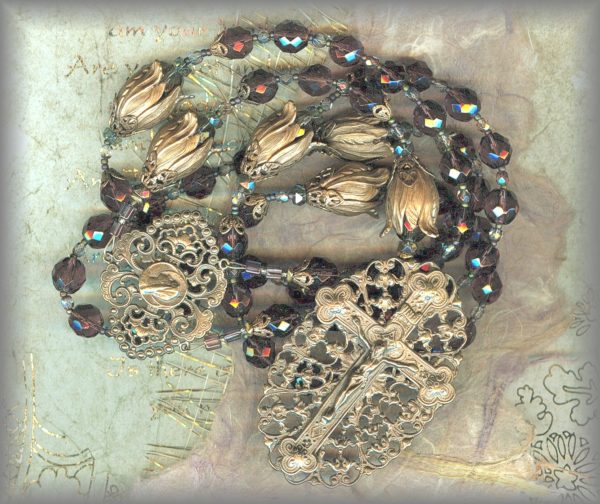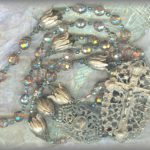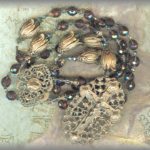 Description
A PLEASANT FIELD 
AVE BEADS: 8mm faceted Czechoslovakian fire polish glass in either topaz or amethyst.
PATER BEADS: Delightful antiqued metal flowers capped with metal filigrees. We have tucked in a brightly faceted bead to give the flower more life.
CRUCIFIX:  VICTORIAN FILIGREE CRUCIFIX – (3 inches)
LG FILIGREE MADONNA CENTER – unknown era / vintage – ( 1.75 in. x 1.25 in )
A large rosary at 31 inches but a treasure to have and hold.
---
………I was exalted like a cedar in Libanus, and as a cypress tree upon the mountains of Hermon. I was exalted like a palm tree in En-gaddi, and as a rose plant in Jericho – as a fair olive tree in a pleasant field – and grew up as a plane tree by the water … I am the mother of fair love, and fear, and knowledge, and holy hope: I therefore, being eternal, am given to all my children which are named of him. Come unto me, all ye that be desirous of me, and fill yourselves with my fruits. For my memorial is sweeter than honey, and mine inheritance than the honeycomb.…SIRACH 24:9-20
---
ABOUT OUR MEDALS: All medals, crucifixes and crosses are hand cast from antique and vintage pieces in sterling silver and solid bronze then antiqued to restore original patina.
---
VERY LIMITED, UNABLE TO REPLACE WHEN GONE. (pricing determined by gram wt of metal at time of casting)
20% DISCOUNT APPLIED BELOW UNTIL GONE.
BRONZE: ($328) your special price $262.40
STERLING: (not available)
PRICING SUBJECT TO CHANGE WITHOUT NOTICE: (pricing determined by gram wt of metals at time of casting)