ABOUNDING GRACE ROSARY – Vintage Millefiore (Venice) & Black Matte – (23.5 in) – RMK.21340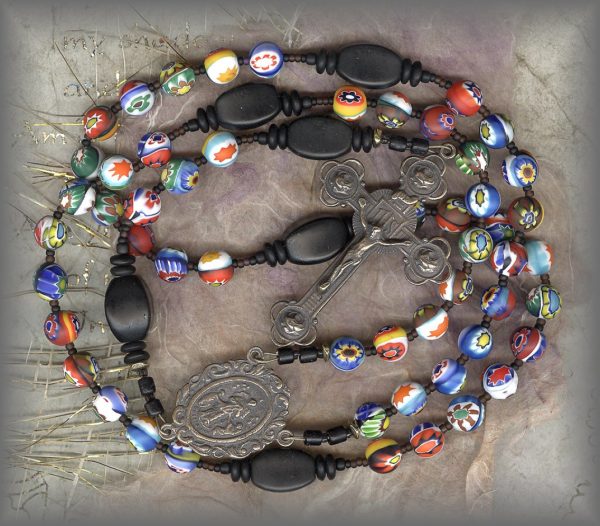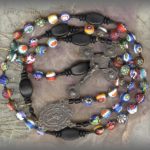 Description
ABOUNDING GRACE 
Inspired by: Mary, Undoer of Knots.
AVE BEADS: VINTAGE MILLEFIORE BEADS –  7mm Millefiore (thousand flowers) Made in Venice on the island of Murano by special request many years ago. We have not seen any more like these that are so clear and well formed. Millefiore beads are pre Christian and are the most famous of all Venetian beads.
Here, each 7mm bead uses 3 Murillo glass rods or canes. Each is thinly sliced and attached onto a smaller bead. It is then held under a flame to melt the glass into a rounded shape.
PATER BEADS: Vintage matte black beads from Gablonz dated 1930's. Again, when gone, unable to replace.
CRUCIFIX: FOUR ROSES – vintage, unknown – (2.5 in.)
CENTER:  Mary, Undoer of Knots  'WREATH II' – (1.25 in
---
ALL OUR MEDALS: All our medals are handcast from antiques and vintage pieces in sterling silver and solid bronze then antiqued to restore original patina.
---
PRICES SUBJECT TO CHANGE WITHOUT PRIOR NOTICE (pricing subject to gram wt of precious metal at time of casting) antique beads very limited, unable to replace.
20% DISCOUNT APPLIED BELOW UNTIL GONE
Bronze: ($246) your special price $196.80
Sterling; ($404) your special price $323.20
PRICING SUBJECT TO CHANGE WITHOUT NOTICE: (pricing determined by gram wt of metals at time of casting)