St. MICHAEL the ARCHANGEL CHAPLET – Blue Bi-Cone Beads -(8 in.) – C9G.51340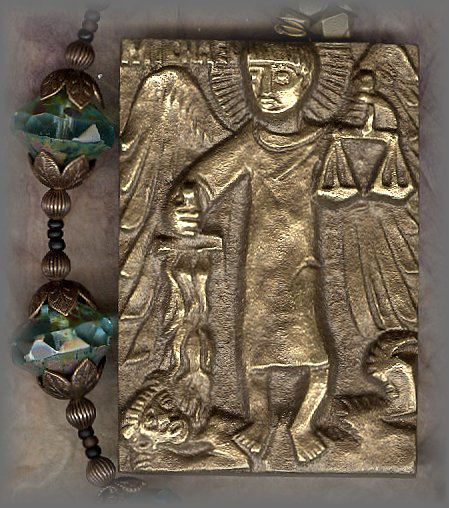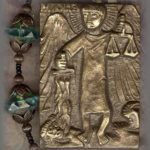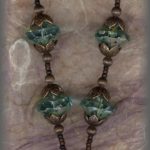 Description
MICHAEL the ARCHANGEL CHAPLET – Feast day- Sept 29
BEADS: 10mm Heavenly faceted blue bicones with "picasso" ends. Each bead is capped with antiqued filigrees.
METAL: ST MICHAEL the ARCHANGEL by medalist Egino Weinert.  (Medal 1.5 x 2 inches)
Available in the traditional 9 bead chaplet (3 sets of 3) or 10 bead chaplet.
---
HOW TO PRAY THE 9 BEAD CHAPLET 
 1 Our Father, Hail Mary and Glory be on each set of 3's.
---
MEDALIST: World renowned German artist, Egino Weinert, is a master in the field of sacred gold smithery, as well as a painter and sculptor. He has consigned pieces of art for Cathedrals and Churches throughout the world and is a favorite of John Paul II. Several of Mr. Weinert's original enamel works may be seen in the Galleria Moderna of the Vatican Museum.
---
ST MICHAEL the ARCHANGEL-NEW JERUSALEM – His name in Hebrew means, "Who is like unto God?" He is one of the principal angels and his name appears in scripture 4 times. He has 4 basic jobs: 1. Fight Satan. 2. Rescue faithful from the power of the enemy, especially at hour of death. 3. Champion of God's people, the Jews in Old Law & Christians in the New Testament. 4. To call away from earth and bring men's souls to judgment. He is the patron of the Church.
---
PRICING SUBJECT TO CHANGE WITHOUT NOTICE: (pricing determined by gram wt of metals at time of casting)
20% DISCOUNT APPLIED BELOW UNTIL GONE:
BRONZE ONLY: ($202) – your special price $161.60
PRICING SUBJECT TO CHANGE WITHOUT NOTICE: (pricing determined by gram wt of metals at time of casting)