BASQUE RING – unknown, Spain – (Approx size 8 – .75 in. ring) – ROS.02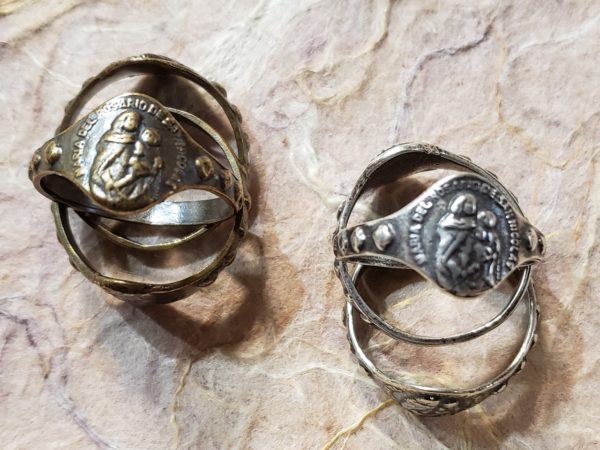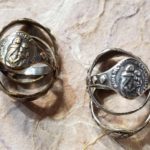 Description
'BASQUE' or 'RING' ROSARY 'MARIA DEL ROSARIO': This is a very old style ring, similar to those used on early ZEHNERS (tenners). These rings and other ornate rings were attached to one end of the 10 bead prayer chain and moved from finger to finger as the decades were prayed to complete a full rosary of five decades. (It was either attached by looping the beading cord through the ring or sometimes a small ring was soldered to the outside edge of the ring for the beading cord to go through).
We are delighted to find this rare ring similar to those shown in early images of museum 'tenners'. Small oval image is of Our Lady of the Rosary along with Jesus holding a rosary (surface worn from loving use). It may be attached to a 'tenner' chaplet or worn alone to count prayers.
---
BASQUE (feminine) represents a region of Northern Spain / Southern France. Mary appeared to her children over a period of time in several areas of the Basque country. One of these apparitions was at Lourdes, thus the word Basque also traditionally translates more recently as 'Our Lady'. Basque was also the language Bernadette spoke to relate the message of Our Lady of Lourdes. The term 'Basque Rosary Ring' seems to be a fairly recent generic term for all rings with 10 knobs that are used for counting prayers. (Also see "Lauburu Cross' a Basque symbol, a cross that has swirled ends)
---
ABOUT OUR MEDALS:  All medals on our website are hand cast from antiques and vintage pieces in sterling silver and solid bronze then antiqued to restore original patina.
---
PRICING SUBJECT TO CHANGE WITHOUT NOTICE: (prices are determined by gram wt at the time of casting)
RING SIZE APPROX 8
BRONZE = $9  (shown left)
STERLING = $23  (shown right)
(actual size:  .8125 in. diameter)
PRICING SUBJECT TO CHANGE WITHOUT NOTICE: (pricing determined by gram wt of metals at time of casting)