BE STILL AND KNOW THAT I AM (15 in. H x 6 in. W) – WG.317b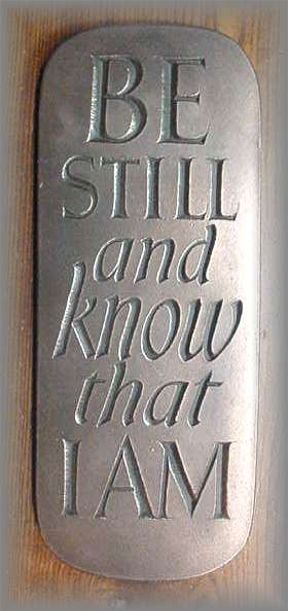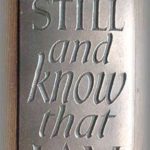 Description
BE STILL AND KNOW THAT I AM: Be still and know that I am God. Stillness and meditation, an alternative to the confusion of everyday life, can be a starting point for prayer and knowledge of God. Exodus 3:14 "I am that I am." This declaration of the eternal God expresses his unity and spirituality. In Exodus, for the Jews in bondage, it was an assurance of the fact of deliverance, but not the means.
'Art has something to do with with achievement of stillness in the midst of chaos. A stillness which characterizes prayer, too, and the eye of the storm … an arrest in the midst of distraction' (Saul Bellow).
---
HAND CAST IN KINSALE IRELAND BY WILD GOOSE STUDIOS: Each of these beautiful reminders of our faith is hand cast in bronze and in iron. A shell is formed in metal then filled with a resin. Each piece is then polished, leaving a deep rich patina. This remarkable technique creates a plaque that is not only beautiful but lighter in weight as if solid, would be very heavy an very expensive.
---
PRICING SUBJECT TO CHANGE WITHOUT NOTICE:
AVAILABLE IN ANTIQUED BRONZE ONLY:
WG.317b = $86  OUT OF STOCK (TO BE BACK ORDERED)
*NOTE:  THIS PRODUCT MAY REQUIRE ADDITIONAL POSTAGE FOR SHIPPING, DUE TO THE SIZE & WEIGHT OF THE ITEM. (It may have to be shipped USPS Priority Mail instead of First Class Mail) If so, you will be quoted the price in your order confirmation.  
(actual size: 15 in. H x 6 in. W)
PRICING SUBJECT TO CHANGE WITHOUT NOTICE: (pricing determined by gram wt of metals at time of casting)