BENEDICT XVI – carved olivewood beads – rosary (8 & 10 mm – 30 in. or 8mm – 25 in 27in.) – RDSP.21365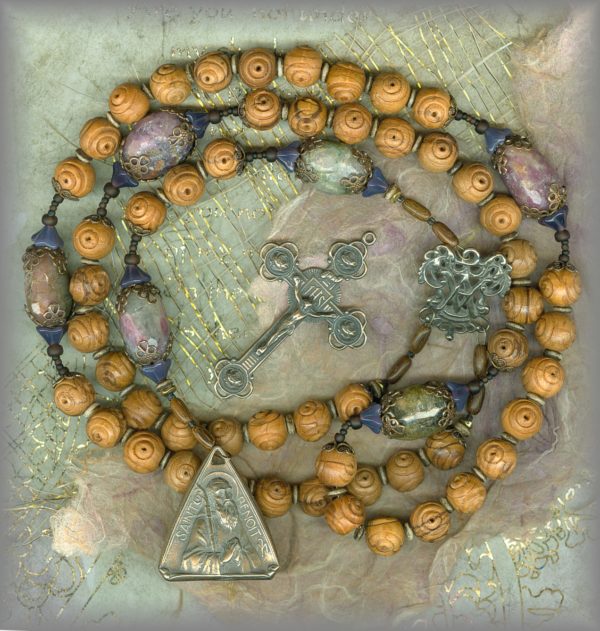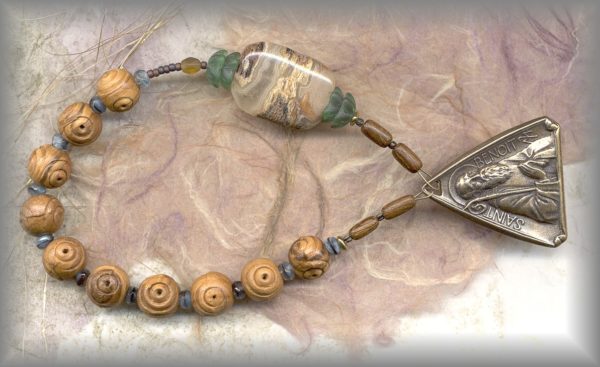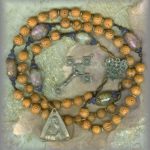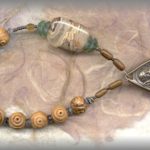 Description
BENEDICT XVI: Inspired by Benedict XVI and his devotion to our Lord.
AVE BEADS: Bethlehem olive wood in a choice of either 8mm or 10mm.
PATER BEADS:  Hand faceted Tourmaline stones show the richness of his time has Pope Benedict XVI. (Ancients believed Tourmaline enhanced understanding and gave the spirit the ability to 'see with the heart'.)Each Pater bead is capped with antiqued filigrees to add a sense of richness. Also inspired by early filigree rosaries. The little blue caps represent the embrace of Our Lady.
CRUCIFIX: FOUR ROSES – vintage, unknown – (2.5 in.)
CENTER: AVE MARIA CROWN CENTER – late 1800's – Spain / Latin America – (.75 in.)
MEDAL: ST BENEDICT TRIANGLE – antique, France/age unknown – (1.5 in.)
CHAPLET: ST BENEDICT MEDAL, ONLY
---
(The Glory of the Olive). The guild gratefully dedicates this rosary of 10mm carved olivewood beads from Bethlehem to our 265th Holy Father who through prophetic words has been seen as the 'Glory of the live.' Although he is a diocesan priest, the order of the 6th century Benedictines is often called the 'Olivetans' and has as its symbol the olive branch. (Peace maker)..
---
Inspired by the works of Pope Benedict during his 8 years as our Holy See. He brought us great hope in his work and in the name he chose, Benedict (Blessing) and gives us insight on the direction of his time as the pastor of the Catholic Church as a peace maker.
---
ABOUT OUR MEDALS: All our medals are handcast from antiques and vintage pieces in sterling silver and solid bronze then antiqued to restore original patina.
---
ST BENEDICT MEDAL:… WHAT IT SAYS …
The reverse of the medal bears a cross with the initial letters of the words: "Crux Sacra Sit Mihi Lux"
THE HOLY CROSS BY MY LIGHT
Written downward on the perpendicular bar; the initial letters of the words, "Non Draco Sit Mihi Dux"
LET NOT THE DRAGON BE MY GUIDE
On the horizontal bar; and the initial letters of "Crux Sancti Patris Benedicti"
IN THE ANGELS OF THE CROSS
Round the margin stand the initial letters of the distich: "Vade Retro Satana, Nunquam Suade Mihi Vana Sunt Mala Quae Libas, Ipse Venena Bibas"
BEGONE, SATAN, DO NOT SUGGEST TO ME THY VANITIES EVIL ARE THE THINGS THOU PROFFEREST DRINK THOU THY OWN POISON
At the top of the cross usually stands the word Pax (peace).
---
PRICING SUBJECT TO CHANGE WITHOUT NOTICE. (pricing determined by gram wt of precious metal at time of casting)
20% DISCOUNT APPLIED BELOW UNTIL GONE
Pricing includes both St Benedict medal found at the top of the loop and Crucifix found on the pendant end.
ROSARY: (available 27 in (10m) or 25 in (8m) beads. Same price, choose length below) Same Price:
BRONZE ($380) – your special price $304
STERLING ($520) – your special price $416
— CHAPLET:
BRONZE: ($162) – your special price $129.60
STERLING: ($324) – your special price $259.2
PRICING SUBJECT TO CHANGE WITHOUT NOTICE: (pricing determined by gram wt of metals at time of casting)