BLESS ITS MAKER VI – Picture Jasper- Rosary (8 mm – 24 in) – RET.21333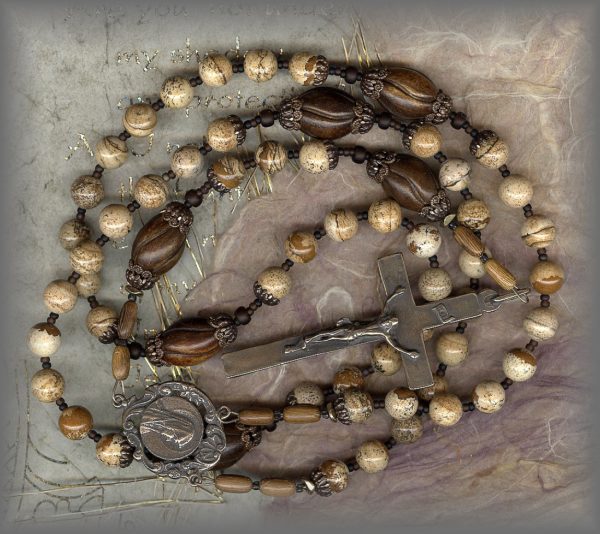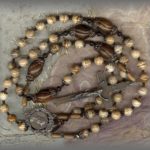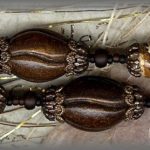 Description
BLESS ITS MAKER: GOD SPOKE, THE EARTH RESPONDED
AVE BEADS: 8mm Semi precious Jasper beads in deep, rich tones of the earth ranging from ecru to brown / blacks, no two alike, each one a true treasure, These picture jasper are some of the nicest we have seen. This is why it pays to hand pick at the gem shows.
PATER BEADS: The hand carved horn is in a deep rich earth brown. Each is capped with antiqued filigrees.  In both cases, we have simplified the overall design for those who prefer a more tailored look.  This is the fifth and sixth generation of this rosary as sold out of all others.
CRUCIFIX: XL PLAIN CRUCIFIX – Europe / late19c – (2.5 in.)
CENTER: LG MARY ROSARY CENTER – EUROPE / 19 th c – ( 1 in. )
---
Think of all the treasures that still sleep beneath the crust of the earth – all coming from the word of God – he spoke and the earth responded to his word. The same word that created the Word, Jesus! And this sings to us of God's promise. We thank God for His glory and His word which is true.
---
TRIBES OF ISRAEL: Semi-precious Jasper is a remarkable stone and has a wonderful history including being one of 12 the stones used in the breastplate of Aaron (12 tribes of Israel) but most precious is that it is used in the foundation of the New Jerusalem.
……….Behold the rainbow! Then bless its Maker, for majestic indeed is its splendor; it spans the heavens with its glory, this bow bent by the might hand of God. Sirach 43:10-12
---
ABOUT OUR METALS: All medals, crucifixes, and centers on our site are hands cast from antiques and vintage pieces in sterling silver and solid bronze then antiqued to restore original patina.
---
PRICES SUBJECT TO CHANGE WITHOUT PRIOR NOTICE. Pricing subject to gram wt of precious metal at the time of casting. Antique beads very limited, unable to replace.
20% DISCOUNT APPLIED UNTIL GONE:
BRONZE: ($212) your special price $169.60
STERLING: ($360) your special price $288
PRICING SUBJECT TO CHANGE WITHOUT NOTICE: (pricing determined by gram wt of metals at time of casting)