BLOOD of the MARTYRS CHAPLET (II) -Antique Flower Beads – (7.5 in.) – CWSP.51112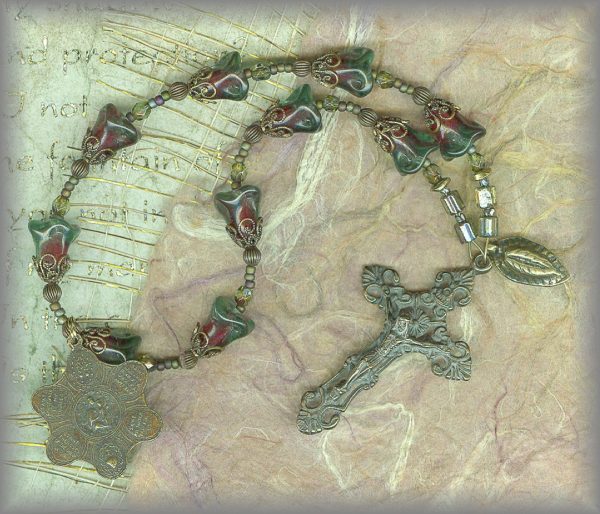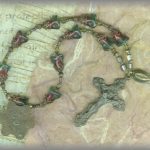 Description
BLOOD of the MARTYRS
BEADS: Old Crystal flower beads with ruby throats and emerald skirts.  These flower beads are from Germany, dated from the 20's to the 50's.
CRUCIFIX:  MEDIUM FANCY – antique, France/1880's – (2 in.)"
MEDAL:  ALL SAINTS MEDAL – antique, Latin America/unknown – (1 in.)
We have place our medal, with it's icons of 6 saints, at the top of the loop. The reverse of the medal is the Sacred Heart of Jesus
Note the crucifix has a small leaf above it to remind us of the tree of life. 
---
The Church is build on the blood of the Martyrs. Many of whom died during this time in Europe during WW II.
---
SEED OF THE CHURCH: Tertullian, who was born about 150 AD in Carthage, North Africa, was trained as a lawyer. He was a convert to Christianity when he was about 40 and wrote that the more the Roman authorities persecuted the Church, the stronger the Church of Christ became. He called it the 'bait' that won men and women for Christ and that the blood of Christians is 'The seed of the Church'
---
ABOUT OUR MEDALS: All medals on our website are hand cast from antiques and vintage pieces in sterling silver and solid bronze then antiqued to restore original patina.
---
PRICING SUBJECT TO CHANGE WITHOUT NOTICE: (pricing determined by gram wt of metals at time of casting)
20% DISCOUNT APPLIED BELOW UNTIL GONE:
BRONZE: ($158) your special price $126.40
STERLING: ($288) your special price $230.40
PRICING SUBJECT TO CHANGE WITHOUT NOTICE: (pricing determined by gram wt of metals at time of casting)