"BRING GLORY TO YOUR NAME" CHAPLET – Tigereye & lapis – (10 in.) – RLS.21311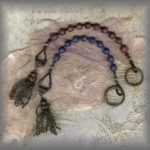 Description
BRING GLORY TO YOUR NAME – CHAPLETS:
Your choice of 2 styles: Lapis or Tigereye
AVE BEADS: 8mm Natural stone beads available in tigereye and lapis blue.
MEDAL RINGS: Bronze metal rings are handcast over 100 years ago using the ancient "lostwax"
technique.
TASSELS:  Are new and remind us of the early "tenners" or chaplets from the 15c. Very popular with  those doing reenactments or Ren Faire goers.
---
ABOUT OUR MEDALS: All crucifixes, crosses, centers and medals are hand cast from antiques and vintage pieces in sterling silver and solid bronze then antiqued to restore original patina.
---
PRICES SUBJECT TO CHANGE WITHOUT PRIOR NOTICE (pricing subject to gram wt of precious metal at time of casting)
20% DISCOUNT APPLIED BELOW UNTIL GONE
your choice below:
RED TIGEREYE CHAPLET
BRONZE ONLY: ($98) your special price $78.40
BLUE LAPIS CHAPLET
BRONZE ONLY: ($98) your special price $78.40
PRICING SUBJECT TO CHANGE WITHOUT NOTICE: (pricing determined by gram wt of metals at time of casting)