CARVED BONE SKULL BEADS – 2 Sizes – (8x10mm & 6mm) – NSK.5606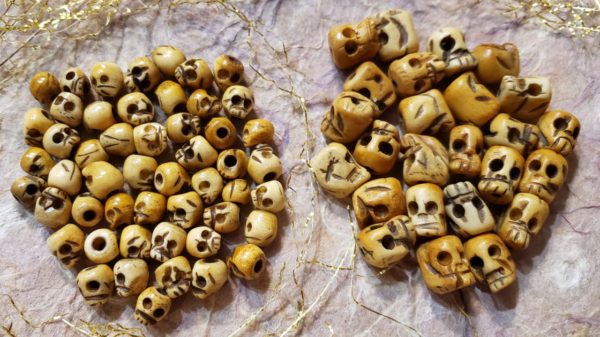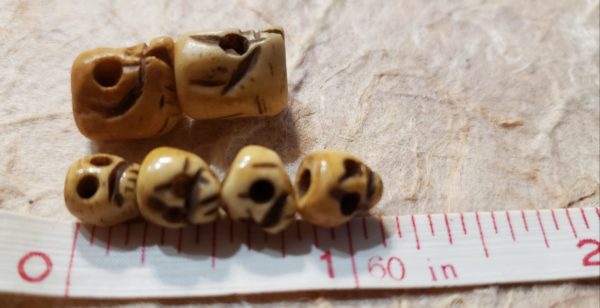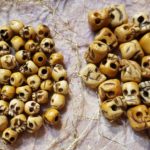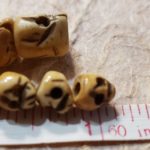 Description
CARVED BONE SKULL BEADS: 2 sizes (8x10mm & 6 mm) Delightful smiling faces are very popular and are our beginning in this adventure of making them available. Skulls have quite a history in rosary making used as Pater beads or as a single addition at the bottom of the rosary next to the cross as seen used by religious. We search out the finest quality carvings with care – making sure the little faces are not grotesque!
All beads have faces – you are looking at the front, back and sides in the image.
---
HISTORY: We invite you to read about this history on our website, you may be surprised!    http://www.rosaryworkshop.com/RDLM-Dia-de-los-Muertos.html
---
PRICING SUBJECT TO CHANGE WITHOUT NOTICE: (limited, unable to replace when gone)
TWO SIZES AVAILABLE
8x10mm – 60 per bag ($23) your price $20 (shown)   SORRY SOLD OUT!
6mm – 60 per bag at ($18) your price $15   ONLY (3) PKGS LEFT
PRICING SUBJECT TO CHANGE WITHOUT NOTICE: (pricing determined by gram wt of metals at time of casting)