CELTIC CROSS CLONMACNOIS – (7 in. H x 4.5 in. W) – WG.33c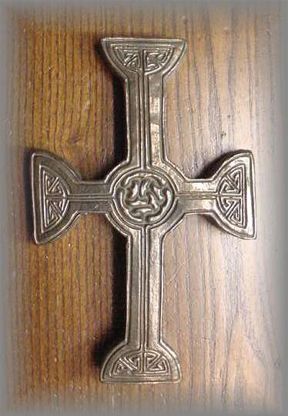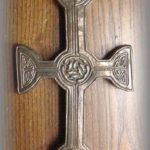 Description
CELTIC CROSS CLONMACNOIS: From the famous monastery and center for learning (88 ad), with a simple disciplined design. Typical of the best in Celtic interlacing designs.
WILD GOOSE QUOTE: The Celts loved patterns signifying the mysteries of God, and man's quest and destiny. This is from the great monastic center of learning at Clonmacnois and has a simple disciplined design, typical of the best Celtic interlacing.
---
WILD GOOSE QUOTE: The oldest of the great Irish high crosses, dating from the 7th century. It stands 10 feet high, dominating a street in Carndonagh, Co. Donegal. The immediate appeal to those seeking a gift for an Irish person is self-evident. The mystery of its powerful symbolism we endeavour to unravel for you.
---
HAND CAST IN KINSALE IRELAND BY WILD GOOSE STUDIOS: Each of these beautiful reminders of our faith is hand cast in bronze and in iron. A shell is formed in metal then filled with a resin. Each piece is then polished, leaving a deep rich patina. This remarkable technique creates a plaque that is not only beautiful but lighter in weight as if solid, would be very heavy and very expensive.
---
AVAILABLE IN ANTIQUED IRON OR BRONZE:
WG.33 – $50
PRICING SUBJECT TO CHANGE WITHOUT NOTICE: (pricing determined by gram wt of metals at time of casting)