CLADDAGH RING DESIGN – (3.25 in. H x 4.6875 in. W) – WG.182r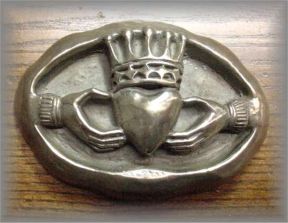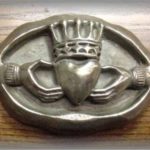 Description
CLADDAGH RING DESIGN: From the Claddagh ring, the supreme Celtic symbol of love and friendship. The union of the hands around the heart (the tangible hanging onto the romantic) is surmounted by a crown (a regal indication of the sacred nature of the relationship).
For the Celts the sacred lies beyond the body, as well as through the body. "The secret of our being, is not only to live but to have something to live for" (Dostoevsky) Claddagh (gaelic for shore) was a fishing village near ancient Galway. Rings were first made in Kinsale in 1700.
---
WILD GOOSE QUOTE: The traditional Gaelic greeting, which means "A hundred thousand welcomes", is typically generous.
---
HAND CAST IN KINSALE IRELAND BY WILD GOOSE STUDIOS: Each of these beautiful reminders of our faith is hand cast in bronze and in iron. A shell is formed in metal then filled with a resin. Each piece is then polished, leaving a deep rich patina. This remarkable technique creates a plaque that is not only beautiful but lighter in weight as if solid, would be very heavy and very expensive.
---
PRICING SUBJECT TO CHANGE WITHOUT NOTICE: 
AVAILABLE IN ANTIQUED IRON OR BRONZE:
WG.182 – $37
ONLY (2) IRON IN STOCK
ONLY (2) BRONZE IN STOCK
(image may be distorted, actual size: 3.25 in. H x 4.6875 in. W)
PRICING SUBJECT TO CHANGE WITHOUT NOTICE: (pricing determined by gram wt of metals at time of casting)