"HEART of the WORLD" CHAPLET – "COME TO ME" – 33 Bead Crystal Gemcuts – (8 mm. – 12.5 in.) – CHWD.5822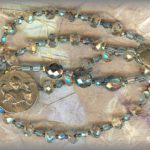 Description
COME TO ME III – HEART of the WORLD CHAPLET:
A 33 BEAD CHAPLET
BEADS: 8mm Crystal "gemcuts" of the finest Czechoslovakian glass and 10mm faceted fire polish beads in a hue called "valentinit'.
MEDAL: CHRIST CHILD HOLDING EUCHARIST – antique, Dated 22.05.32 – (1 in.)
CENTER: SACRED HEART CENTER – antique, late 19c (.75 in.)
---
This chaplet is beautiful for today, even though it was given the imprimatur in 1960 by George W Ahr, Bishop of Trenton (Feb 22, 1960).
---
PRAYER AND INTERCESSION: 
1. Pray the Act of Contrition
2.ON EACH OF THE 30 WHITE BEADS "My little Jesus, I love thee."
3 ON EACH OF THE 3 CRYSTAL BEADS "Our Mother of Perpetual Help save us."
4 LET US PRAY
My little Jesus, if it be Thy Holy Will, look upon my poor petition and grant me the favor I so earnestly beg of Thee. __________ In return, I will ever love thee, Divine Babe, and will do all in my power to make thee known and loved.
Amen
---
… No one knows the Son except the Father, and no one knows the Father except the Son and anyone to whom the Son wishes to reveal him. 28 Come to me, all you who labor and are burdened, 16 and I will give you rest. 29  Take my yoke upon you and learn from me, for I am meek and humble of heart; and you will find rest for your selves. 30  For my yoke is easy, and my burden light."….
---
ABOUT OUR MEDALS: All medals on our website are hand cast from antiques and vintage pieces in sterling silver and solid bronze then antiqued to restore original patina.
---
PRICING SUBJECT TO CHANGE WITHOUT NOTICE: (pricing determined by gram wt of metals at time of casting)
20% DISCOUNT APPLIED BELOW UNTIL SOLD OUT
BRONZE: ($118) your special price $94.40
STERLING: ($192) your special price $153.60
PRICING SUBJECT TO CHANGE WITHOUT NOTICE: (pricing determined by gram wt of metals at time of casting)