CRIMPING BEADS – 3 colors – match .019 softflex wire – (2mm) – TCB.CR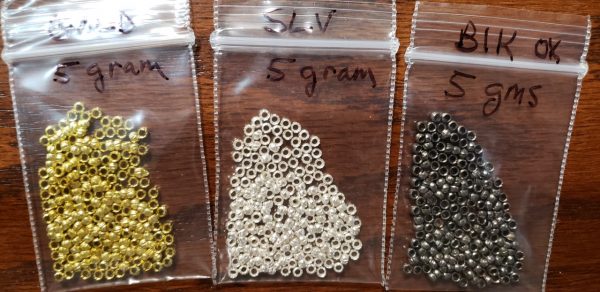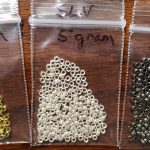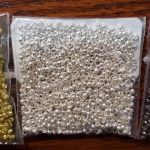 Description
2 mm CRIMPING BEADS: Available in three colors and set to match your wire, your wire should match your metal pieces. Gold (bronze) and silver and black for use on black beads. 2mm crimping beads are to be used with .019 wire. Approx 5 grams – (approx 150 – 160 beads ) per bag. Also now available in 1 ounce for savings.
---
PRICING SUBJECT TO CHANGE WITHOUT NOTICE: (We have looked for years and these are the finest we could find! We use them in our workshop.)
*NOTE: WE HAVE LOST OUR SUPPLIER FOR OUR CRIMPS. WE ARE DILIGENTLY SEARCHING FOR A COMPARABLE REPLACEMENT. WE WILL ORDER AS SOON AS WE FIND A REPLACEMENT WORTHY OF THE QUALITY WE HAVE ALWAYS USED.
— AVAILABLE IN 5 gm (gram) BAGS (approx 150 – 160 crimps)
GOLD = $6 (use with bronze wire)  
SILVER = $6 ('clear' for use with silver)  OUT OF STOCK (ON BACK ORDER)
BLACK OX = $7 (works with either)
—ALSO AVAILABLE IN 1 oz (ounce) BAGS
GOLD = $17
SILVER = $17  OUT OF STOCK (ON BACK ORDER)
BLACK OX = $19  OUT OF STOCK (ON BACK ORDER)
[porto_block name="pricing"]