FEBRUARY SKY ROSARY (Birthstone) – Natural Amethyst & Wood- (22.5 in) – RBS.2.2702.AF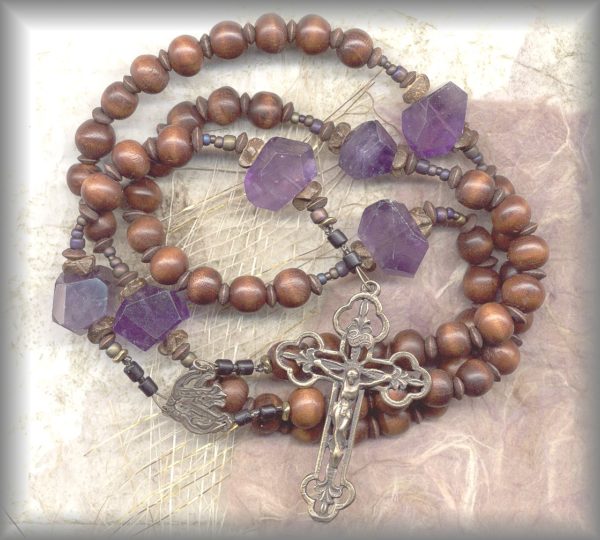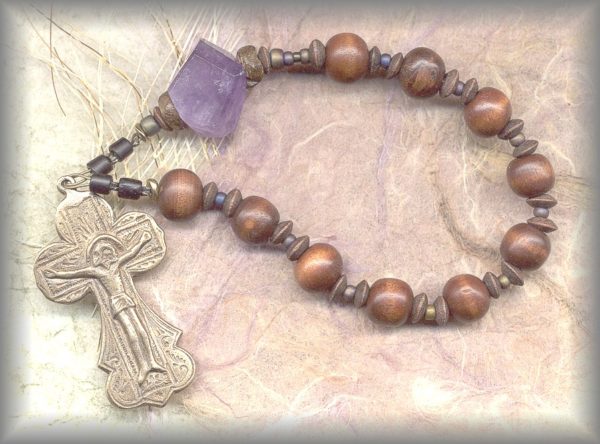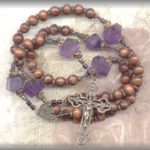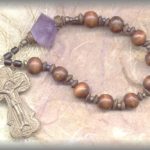 Description
BIRTHSTONE – FEBRUARY SKY
AVE BEADS: 8mm Natural Cherry wood
PATER BEADS: Natural Amethyst with rare, bold (irregular) hand facets
CRUCIFIX & CENTER: LILY/AVE MARIA ROSARY SET – Phillipines/late 1880's (2.25 in.)
CHAPLET CRUCIFIX:  RUSSIAN – antique Russia/1800's – (1.75 in.)
---
The 6th of our series of birth stones that come from the ancient 12 tribes of Israel. VIRGO (Virgin) was the first, according to the Hebrew calendar, ending with LEO (Lion of Judah): . Giving God back what is his! The stars were read by the ancient desert people with great hope as the constellations pointed to the coming of the Jewish Messiah. God's own son, Jesus Christ.The traditional 12 birthstones have origins in Scripture. (12 gemstones worn on the Breast Plate of the High Priest represent the 12 tribes of Israel. (Ex:28,15-30) and set in the order of their birth as ordered by God himself!
---
AMERICAN GEM SOCIETY: The stones used here represent the ones designated by the American Gem Society in the 1930's. (the original 12 stones carried vague names, some of which were generic, others named after the place of origin (Turquoise / Turkey) We also note that different interpretations of scripture are not consistent in names and placement.
Not just for birthdays in February – this is a wonderful rosary for anyone who loves to pray.
---
ABOUT OUR MEDALS: All our medals are hand cast from antique and vintage pieces in sterling silver and solid bronze. (The beads used here are handmade and are new. The Filigree cross is cast from an old piece.)
---
PRICING SUBJECT TO CHANGE WITHOUT NOTICE. (pricing determined by gram wt of precious metal at time of casting) Unable to replace at this price if beads available.
20% DISCOUNT APPLIED BELOW UNTIL SOLD
ROSARY:
BRONZE: ($192) Your special price $153.60
STERLING ($290) Your special price $232
WHITE BRONZE($176) -Your special price $140.80
CHAPLET:
BRONZE: ($118) your special price $94.40
STERLING: ($160) your special price $128
[porto_block name="pricing"]