CLARE of ASSISI CHAPLET (II) – Red Tablecut beads – (9 in.) – C9G.51311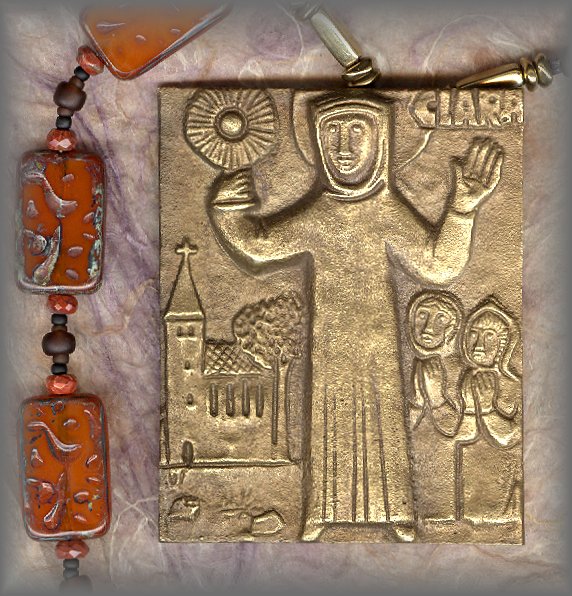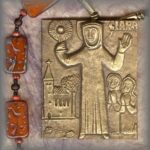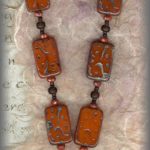 Description
CLARE of ASSISI CHAPLET: Feast day: August 11
Female Saints Collection
BEADS: Red "tablecuts" chosen to remind us of the Monstrance Clare held to scare away the attacking enemy in 1241 when the Saracens attacked the city of Assisi.
MEDAL: St. Clare of Assisi by medalist Egino Weinert.  (Medal 1.5 x 2 inches)
Available in either the traditional 9 bead chaplet (3 sets of 3) or the 10 bead chaplet.
---
TO PRAY THE 9 BEAD NOVENA CHAPLET: "niners" are an old tradition with the prayers going to intercede to the saint on the medal. Pray one each: Our Father, Hail Mary , Glory Be, To complete, repeat 3 times.
---
MEDALIST: World renowned German artist, Egino Weinert, is a master in the field of sacred gold smithery, as well as a painter and sculptor. He has consigned pieces of art for Cathedrals and Churches throughout the world and is a favorite of John Paul II. Several of Mr. Weinert's original enamel works may be seen in the Galleria Moderna of the Vatican Museum.
---
ST CLARE of ASSISI
ITALY ( 1194 -1253 ) Co-foundress of the Order of Poor Clares (or Ladies) and first Abbess of San Damiano, following the teachings of her beloved Francis. She holds a monstrance to ward off the enemy as they approached Assisi. When they saw it, they fell back and Assisi was saved. Patron saint of eye disorders, telegraphs, telephones, and television.
---
ABOUT OUR MEDALS: All medals on our website are hand cast from antiques and vintage pieces in sterling silver and solid bronze then antiqued to restore original patina.
---
PRICING SUBJECT TO CHANGE WITHOUT NOTICE: (pricing determined by gram wt of metals at time of casting)
20% DISCOUNT APPLIED BELOW UNTIL GONE:
BRONZE ONLY: ($174) your special price $139.20
PRICING SUBJECT TO CHANGE WITHOUT NOTICE: (pricing determined by gram wt of metals at time of casting)