GARMENT of AARON ROSARY (II) -Antique Matte Black – (25 in.) – LEA.2210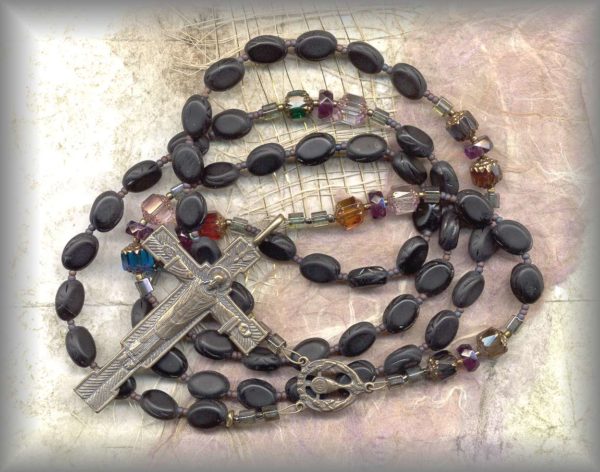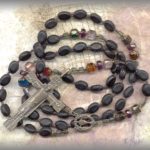 Description
GARMENT of AARON II
AVE BEADS: 8mm Matte black antique beads – Gablonz (1940 ). Black Onyx was one of the stones used in the breastplate of the High Priest.
PATER BEADS: High quality glass from Czechoslovakia. This rosary is an icon, an image written in the presence of God. The rosary is a collection of Scriptural Prayers that tells the story of the Word of God. The colors that make up the Paters represent the 12 stones on the ancient priest's breastplate as given by God in the Old Testament (Exodus 28:17-21).
CRUCIFIX:  CHRIST the KING – antique, Italy/1920's – (2.5 in.)
CENTER: EUCHARIST – ANGELS – antique, Europe/early 1900's – (.75.in.)"
---
12 GEMSTONES OF BREASTPLATE: Sets of 2 each – also the 12 months of the year, 12 tribes of Israel, 12 birth months of the year covers all vocations, seminarians, priests we are praying for. (These beads, pressed from old glass bead molds have ends of gold to remind us of the Lord saying the stones of the breastplate are to be set in gold filigree.
---
ALL OUR MEDALS: Handcast from antiques and vintage pieces in sterling silver and solid bronze then antiqued to restore original patina.
---
PRICING SUBJECT TO CHANGE WITHOUT NOTICE. (Pricing determined by gram wt of precious metal at time of casting)
20% DISCOUNT APPLIED BELOW UNTIL GONE
BRONZE: ($222) your special price $177.60
STERLING: ($272) your special price $217.60
PRICING SUBJECT TO CHANGE WITHOUT NOTICE: (pricing determined by gram wt of metals at time of casting)