GLENDALOUGH CELTIC CROSS (5.75 in. L x 3.25 in. W) – WG.91g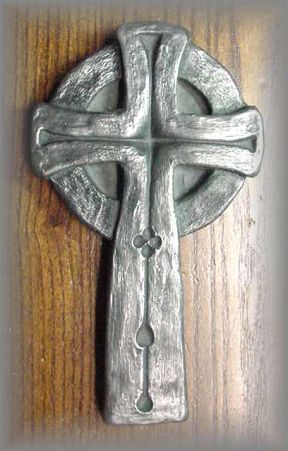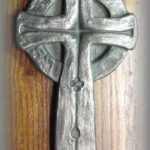 Description
GLENDALOUGH CELTIC CROSS: A cross is one of the most ancient and powerful of symbols, predating Christianity as a sanskrit symbol of the seasons, directions to mention a few. A symbol conveys more than the eye perceives. A cross is the meeting of the horizontal and vertical (yin/yang, feminine/masculine). The circle of the Celtic cross the union of a cosmic dimension. This carving is from St. Kevin's Church, Glendalough. The day we were there, the fog was setting low over the surrounding mountains creating an even more sense of the mystical.
---
HAND CAST IN KINSALE IRELAND BY WILD GOOSE STUDIOS: Each of these beautiful reminders of our faith is hand cast in bronze and in iron. A shell is formed in metal then filled with a resin. Each piece is then polished, leaving a deep rich patina. This remarkable technique creates a plaque that is not only beautiful but lighter in weight as if solid bronze, would be very heavy and very expensive.
---
PRICING SUBJECT TO CHANGE WITHOUT NOTICE:
AVAILABLE IN ANTIQUED IRON OR BRONZE
WG.91g = $47
ONLY (3) IRON LEFT IN STOCK
ONLY (4) BRONZE LEFT IN STOCK
*NOTE:  THIS PRODUCT MAY REQUIRE ADDITIONAL POSTAGE FOR SHIPPING, DUE TO THE SIZE & WEIGHT OF THE ITEM. (It may have to be shipped USPS Priority Mail instead of First Class Mail) If so, you will be quoted the price in your order confirmation.  
(actual size: 5.75 in. L x 3.25 in. W)
PRICING SUBJECT TO CHANGE WITHOUT NOTICE: (pricing determined by gram wt of metals at time of casting)