GUADALUPE SANS FRAME CENTER – antique, Latin America/date unknown (1 in.) – SS.RCG.004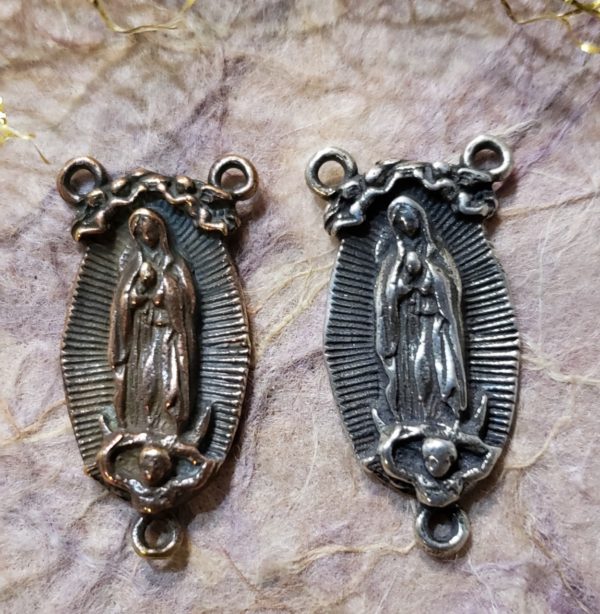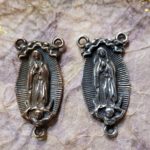 Description
GUADALUPE SANS FRAME CENTER: Three tiny angels, one below Our Lady of Guadalupe and two holding a crown over here head. Traditional radiating lines complete the beautiful design. Our Lady of Guadalupe, patroness of the preborn, is imaged in this beautiful rosary center.
Part of our Samsara Collection.
SEE ALSO Matching Medal (SS.MLG.003) – Guadalupe Sans Frame Medal   https://store.rosaryworkshop.com/shop/guadalupe-sans-frame-medal-antique-latin-america-date-unknown-1-in-ss-mlg-003/
---
ABOUT OUR MEDALS: All medals on our site are hand cast in sterling silver and bronze from antique and vintage pieces then antiqued to restore original patina.
---
PLEASE NOTE: When trying to match up SAMSARA pieces with NON-SAMSARA pieces we will personally help match them for you. Some of the metals/antiquing Samsara used in his old pieces do not match our own pieces, especially the Bronze can be very off color. Please contact us if you need help!
---
PRICING SUBJECT TO CHANGE WITHOUT NOTICE:  (pricing determined by gram wt of metals at time of casting)
*(ONLY A LIMITED AMOUNT OF ORIGINAL SAMSARA PIECES LEFT!  TO BE RECAST)
BRONZE = $12  (shown left)  *SOLD OUT (NO DATE YET – TO BE RECAST)
STERLING = $23  (shown right)  *ONLY (14) LEFT IN STOCK
(actual size: 1.1250 in. H x .5625 in. W, including bails)
PRICING SUBJECT TO CHANGE WITHOUT NOTICE: (pricing determined by gram wt of metals at time of casting)