HOLY WOUNDS MEDALS (SET OF 6) – European/1900 (pendant medal 1 in.) – SS.HW.001 SET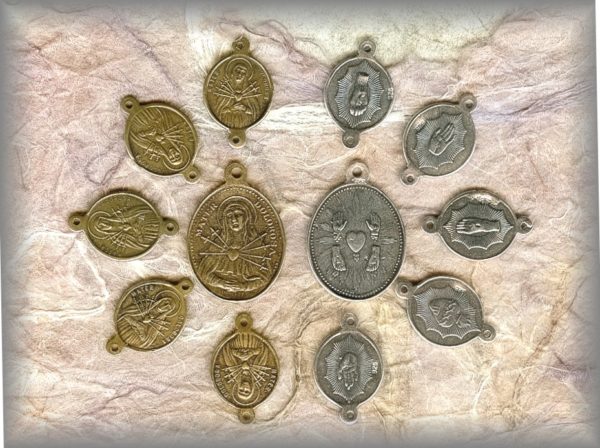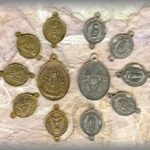 Description
SET TO MAKE 'CHAPLET OF HOLY WOUNDS': This set consists 6 medals: (5 small medals 1 pendant medal of Mary). DESIGN: 5 small medals with holes at both ends: 2 with wounded hands, 2 with wounded feet, 1 with wounded heart. REVERSE: 7 wounds of Mary (miniature of Pendant Medal). Part of our Samsara Collection.
PENDANT MEDAL: 7 Wounds of Mary, 'Mater Dolorosa'REVERSE: Medal shows all 5 wounds.
Part of our Samsara Collection.
---
HISTORY: The devotion to the Holy Wounds and the Promises were given by Our Lord to Sr. Mary Martha Chambon (1841-1907), of the Monastery of the Visitation of Chambery. The cause for her beatification was introduced in 1937.
LITTLE CHAPLET OF THE HOLY WOUNDS
The Rosary of the Holy Wounds (also called the Chaplet of Holy Wounds) may be prayed on the standard 5 decade rosary. (also see Chaplet of Divine Mercy).
She shared that Jesus appeared to her and asked her to unite her sufferings with His as an Act of Reparation for the sins of the world. Jesus said to her:
"When you offer My Holy Wounds for sinners, you must not forget to do so for the souls in Purgatory, as there are but few who think of their relief . . . The Holy Wounds are the treasure of treasures for the souls in Purgatory."
---
ABOUT OUR MEDALS: All medals on our website are hand cast from antiques and vintage pieces in sterling silver and solid bronze then antiqued to restore original patina.
---
PRICING SUBJECT TO CHANGE WITHOUT NOTICE:  (pricing determined by gram wt of metals at time of casting)
NOTE:  DISCONTINUED, WE WILL NOT BE GETTING RECAST! (From our Samsara Collection)
SORRY BRONZE & STERLING NOW SOLD OUT!   
PRICING SUBJECT TO CHANGE WITHOUT NOTICE: (pricing determined by gram wt of metals at time of casting)