FR. TITUS BRANDSMA ROSARY – "I SHALL NOT FEAR" – 1920'S Antique beads – (22 in.) – RSTS.21745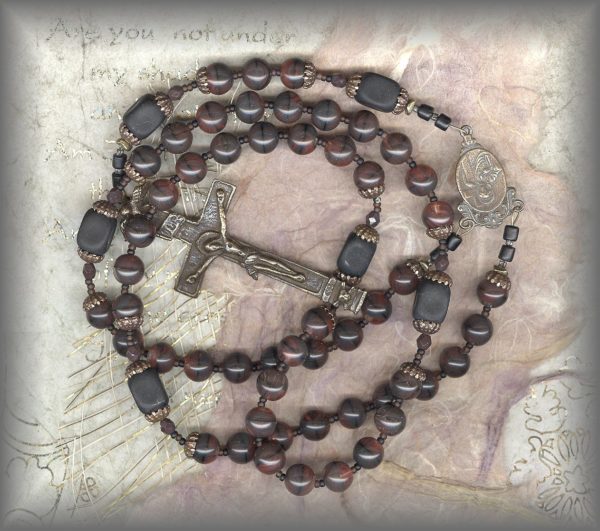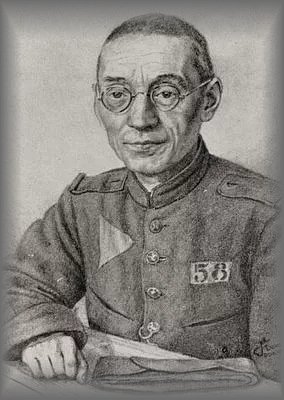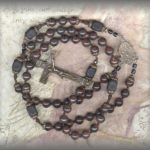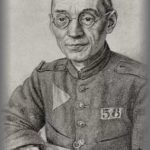 Description
TITUS BRANDSMA:
AVE BEADS: 8mm Antique brown with red… old beads from Gablonz  (1920's)
PATER BEADS: Black oblong squared Gablonz bead, old.
CRUCIFIX:  DOVE CRUCIFIX – antique, Russia/19c or earlier – (3 in.)
CENTER: SCAPULAR / CARMEL CENTER – antique, Europe/early 20c (1 in.)
---
WHO WAS TITUS BRANDSMA? O. Carm. (23 February 1881 – 26 July 1942), was a Dutch Carmelite friar, Catholic priest and professor of philosophy. Brandsma was vehemently opposed to Nazi ideology and spoke out against it many times before the Second World War. He was imprisoned in the infamous Dachau concentration camp, where he died. He has been beatified by the Roman Catholic Church as a martyr of the faith.
……"Do not yield to hatred. We are here in a dark tunnel, but we have to go on. At the end, an eternal light is shining for us." –  "I see God in the work of his hands and the marks of his love in every visible thing, and it sometimes happens that I am seized by a supreme joy which is above all other joys."…….Fr. Titus Brandsma
---
ABOUT OUR HAND-CAST METALS: All metals, crucifixes and crosses are hand-cast from rare antique and vintage pieces in sterling silver and solid bronze then antiqued to restore original patina.
---
PRICING SUBJECT TO CHANGE WITHOUT NOTICE (pricing determined by gram wt of precious metals at time of casting)
20% DISCOUNT APPLIED BELOW UNTIL SOLD
BRONZE: ($238) – your special price $190.40
STERLING: ($430) your special price $344
PRICING SUBJECT TO CHANGE WITHOUT NOTICE: (pricing determined by gram wt of metals at time of casting)