IHS SHIELD CENTER – Rare, Europe/19c (.5 in.) – RC.67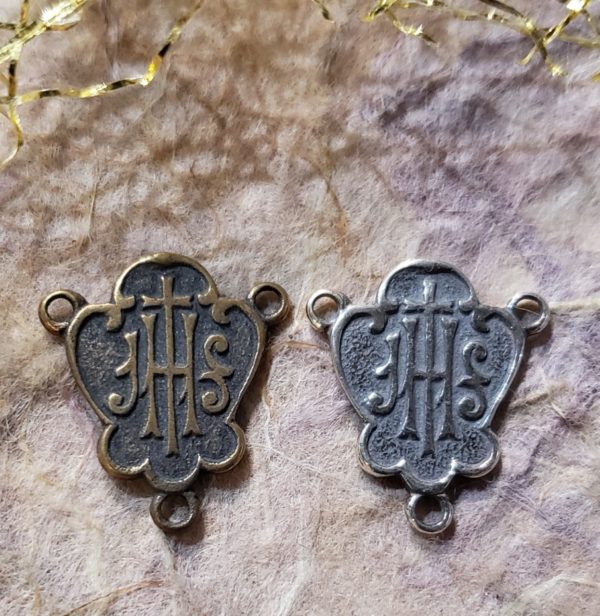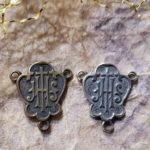 Description
IHS INITIALS ON A SHIELD CENTER: What does it mean? The Christogram IHS is a monogram symbolizing Jesus Christ. From Greek it is an abbreviation of the name ?????? (Jesus). In Eastern Orthodox Church the Christogram is composed with letters X, P, I and X arranged into the cross. They are the first letters of one from two words in Greek language: Christ and Jesus Christ.
In the Western culture there exist the compositions: "IHS" and also "IHC" being the first letters (iota-eta-sigma) of the name Jesus in Greek alphabet: ?????? (?????? or IHSOYS with lunated sigma).
---
ABOUT OUR MEDALS: All medals on our website are hand cast from antiques and vintage pieces in sterling silver and solid bronze then antiqued to restore original patina.
---
PRICING SUBJECT TO CHANGE WITHOUT NOTICE: (pricing determined by gram wt of metals at time of casting)
BRONZE = $4  (shown left)
STERLING = $10  (shown right)
(actual size:  .6250 in. H x .5625 in. W, including bails)
PRICING SUBJECT TO CHANGE WITHOUT NOTICE: (pricing determined by gram wt of metals at time of casting)