IMMACULATE HEART W/5 ROSES MEDAL – vintage, age/origin unknown (1.5 in.) – SS.MIH.001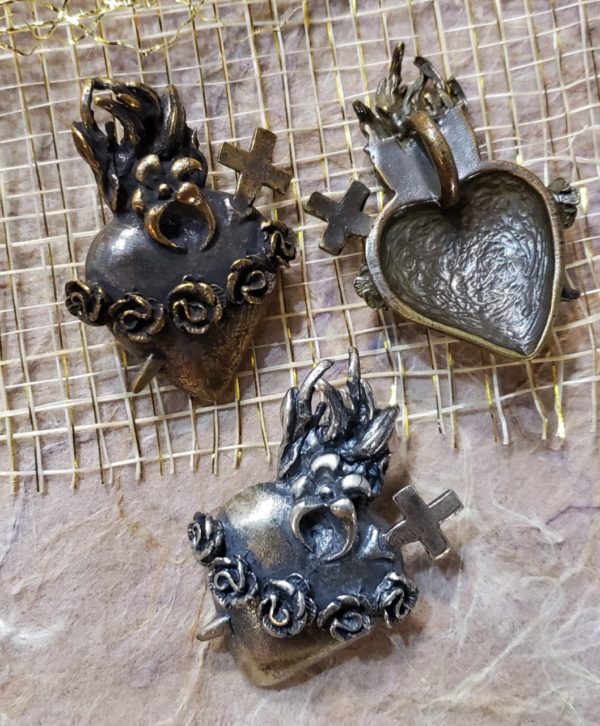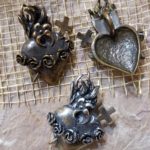 Description
IMMACULATE HEART WITH ROSES: (Also known as the 'Sacred Heart of Mary'). We started selling these exquisite pierced heart of Mary medals before they were even up and available! Symbolism is powerful right down to the crown of 5 roses (5 wounds her son, Jesus suffered for our salvation), the cross and sword piercing her heart. The flames on top show the passion of her love and there is a lily in front of the flames (hard to see). Another symbol of Mary's purity, also/Easter or risen Christ!
RING ON BACK: Wear this on a chain or bead a cord or wire for a necklace or use on a chaplet. One of the most precious medals we have, don't miss as will go fast! Well defined and loved.
Part of our Samsara Collection.
---
DEVOTION OF THE TWO HEARTS: (Jesus/Mary)
JESUS: Symbolizes the fullness of love he has for us even though we reject and ignore his love.
MARY: Symbolizes Mary full of love for her son, Jesus and for God. She sets an example for the way we should love her son.
ALSO SEE (SS.MSH.010) – SACRED HEART OF JESUS   http://ait.devops.design/domains/wp/rosaryworkshop2/shop/vintage-sacred-heart-medal-vintage-age-origin-unknown-1-25-in-ss-msh-010/
---
SCRIPTURAL REFERENCES:  
LUKE 2:19   
"Mary kept in mind all these things, pondering them in her heart." (Visit of Shepherds and what they told her regarding the angels who announced the birth of Christ to them.)
LUKE 2:35
"Your own soul a sword shall pierce, that the thoughts of many hearts may be revealed." (Simeons response when Mary brought Jesus to the Temple to offer him to God according to the customs of the Mosaic Law.)
LUKE 2:51b
"His mother kept all these things carefully in her heart." (when Mary and Joseph lost Jesus for 3 days and found their son teaching the doctors of the church regarding the Mosaic Law in the Temple.)
---
ABOUT OUR MEDALS: All medals on our site are hand cast in sterling silver and bronze from antique and vintage pieces then antiqued to restore original patina.
---
PRICING SUBJECT TO CHANGE WITHOUT NOTICE:  (pricing determined by gram wt of metals at time of casting) *NOTE: BRONZE & STERLING ARE CURRENTLY OUT OF STOCK – NOT SURE WHEN WE WILL HAVE MORE OF THIS PIECE (TO BE RECAST AT A FUTURE DATE).
BRONZE = $22 (SOLD OUT) *(TO BE RECAST)
STERLING = $63 (SOLD OUT)  *(TO BE RECAST)
(actual size: 1.50 in. H x 1.1250 in. W)
PRICING SUBJECT TO CHANGE WITHOUT NOTICE: (pricing determined by gram wt of metals at time of casting)