INTERCESSOR – "THEOTOKOS", MOTHER of GOD – (24 inches) – JICON.2700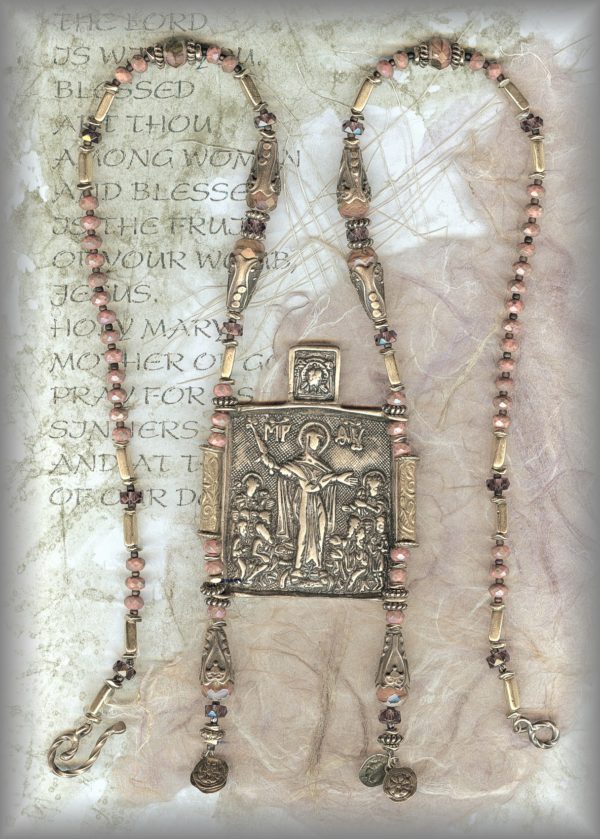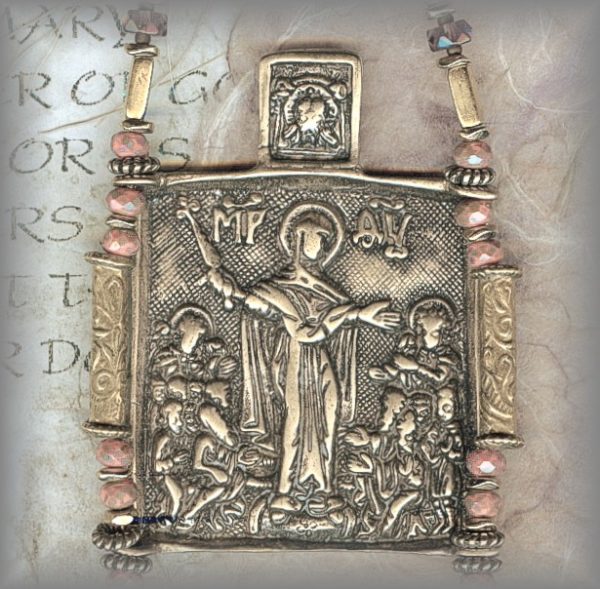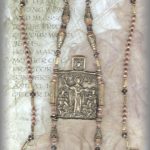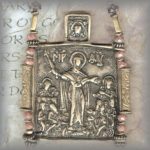 Description
THEOTOKOS / AGIOSORTISSA PECTORAL:
'Theotokos' – (Mother of God), 'Agiosortissa' (intercessor).
BEADS: Faceted coral beads are Czech glass. Their granite ends make them look very old. The metal cones, rope spacers and 2 large tubes are all hand cast from antiques.
MEASUREMENT: 24 inch necklace hangs 16 in from center back to bottom of each tassel.
The center panel of this rare icon is of a full figure of Our Lady surrounded by people at her feet.. Her left hand openly pointing to Christ (missing panel) and right holding a staff. We understand only two full figures of Mary exist in ancient Icon Art and this is one of them.
This type of Icon is called'Agiosortissa' (intercessor). Similar icons are called "Theotokos – Joy and Sorrow" or 'Virgin of Joy of All Afflicted.'
'MP' – 'OY': on either side of Mary's head are standard icon designators that point out or symbolize she is THEOTOKOS (Mother of God).
---
TRYPTYCH: (Skladen) Folding Icons were very popular during the 17 -18c. This one has rings top and bottom for hinges that would have held a door on the left and one on the right. By tradition there would be an image of Christ on a separate panel (inner door) to her left as shefaces and points in that direction.
(purchased at a flea market in Oberammergau – 2007)
VERNICLE: The top square has a chain ring behind it for wearing as a pectoral. It has the worn face, the image of the Holy Face of Jesus. Note the 'A' – 'O' (Alpha / Omega, First / Last, Beginning / End). Vernicle relates to the veil of Veronica, often called the original icon."
"TRAVELER'S ICONS": Icons tell the visual story to the faithful and help the faithful to meditate. Small metal Icons have a 1000 year old history and were often called "Traveling Icons" or "Travelers Icons" as the devoted, soldiers and others, could take them into battle or on their travels for protection. Traditionally made of bronze / brass, were wearable and small (2 x 2.5 in) The soft brass originals submitted to the constant wear of devoted fingers, recording the history of these sacramentals.
---
THE "OLD BELIEVERS": In 1723, Peter the Great forbid the casting of metal icons and were banned in the process of "renewing the church". Many believers chose not to recognize these changes and took on the metal Icons as their symbol for this reason. They are known as the "Old Believers" to this day. They follow the earlier teachings of the church.They also became collectors of these fine old metal icons so they would not be lost.
---
ABOUT OUR METALS: All metals on our site have been hand cast from antiques and vintage pieces in sterling silver and solid bronze then antiqued to restore original patina.
---
PRICING SUBJECT TO CHANGE WITHOUT NOTICE. (pricing determined by gram wt of precious metal at time of casting)
20% DISCOUNT APPLIED BELOW UNTIL GONE
BRONZE: ($492) your special price $393.60
STERLING: ($796) your special price $636.80
PRICING SUBJECT TO CHANGE WITHOUT NOTICE: (pricing determined by gram wt of metals at time of casting)