"IRISH HORN" – PENAL ROSARY – ( 19 in) – RIPR.2709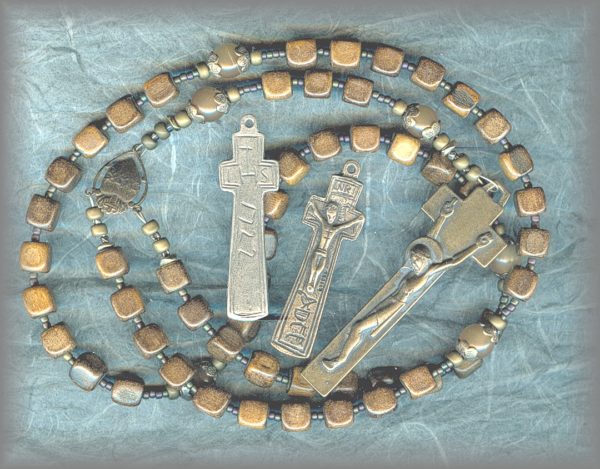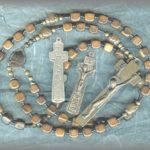 Description
IRISH HORN ROSARY WITH PENAL CRUCIFIX
AVE BEAD: Burnt horn cubes
PATER BEAD: Light natural horn druck bead capped with bronze like the traditional ones.
Your choice of crucifix:
1. IRISH PENAL (crucifix) – vintage, Europe/mid 20c – (2.5 in.) Very simple, this crucifix takes on the basic long shape of the traditional Penal Crucifix with short arms we use on the Chaplets.
2.  PENAL CRUCIFIX – 1722 – Loch Derg – Ireland / 1722) – (1.75 in incl ring). A rare and beautiful Penal Crucifix dated 1722 with all the symbols of the crucifixion, typical of the ones from the holy site in Loch Derg (Ireland). ( a smaller crucifix)
---
THE PENAL TIMES
A trip through the countryside of Ireland today will yield ruins of monasteries and churches everywhere. After awhile one has to ask, 'what happened?' Religious persecution in Ireland began under Henry VIII (1540 until about 1731). The local Parliament adopted acts establishing the king's ecclesiastical supremacy, abolishing the pope's jurisdiction, and suppressing religious houses.
---
ALL OUR MEDALS: All our medals are handcast from antiques and vintage pieces in sterling silver and solid bronze then antiqued to restore original patina.
---
PRICING IS SUBJECT TO CHANGE WITHOUT NOTICE (pricing determined by gram wt of precious metal at time of casting)
20% DISCOUNT APPLIES BELOW UNTIL GONE
ROSARY with PLAIN PENAL CRUCIFIX (large)
BRONZE: ($230) your special price $184
STERLING: ($366) your special price $293.80
ROSARY with 1722 PENAL CRUCIFIX (small)
BRONZE: ($174) your special price $139.20
STERLING: ($266) your special price $212.80
PRICING SUBJECT TO CHANGE WITHOUT NOTICE: (pricing determined by gram wt of metals at time of casting)