IRISH PENAL CHAPLET (VI) – Carnelian – (11 in.) – CIPR.5050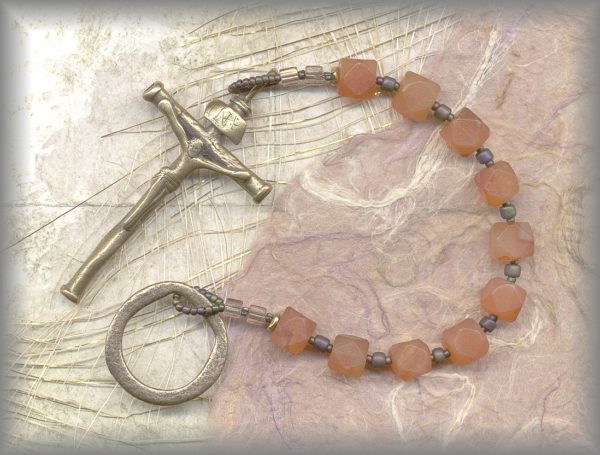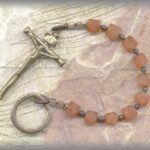 Description
CARNELIAN IRISH PENAL CHAPLET 
BEADS: Small chunks of hand carved Carnelian
CRUCIFIX:  GALWAY/CRUCIFIX – Ireland, late 1700's (2.5 in.)
CELTIC 'RING MONEY: Hand cast from ancient Celtic 'Money Rings' or Celtic 'Ring Money!   A natural for our Penal Chaplets when used as 'Finger' or 'Thumb' Ring".
---
Inspired by an antique Penal Chaplet from the Hunt Museum (Limeric Ireland). It is unusual to find this crucifix, a Galway Cross  on this style chaplet as usually we see the traditional short armed, wooden Penal Cross. Both date back to the 1700's but the Galway Cross is a fine example of crosses inspired by the work of Spanish artisans and embraced by the Irish. (Ireland and Spain became trading partners during the Penal times.) FOR MORE INFORMATION see our museum section.
---
HOW TO PRAY: The hand made metal ring was used to fit over the finger. To pray a full 5 decade rosary, the ring was passed from one finger to the next, one for each decade prayed.
---
HISTORY OF THE PENAL CHAPLET/ROSARY: The Penal Rosary was developed from a long and sad history of the people of Ireland. But for some unknown reason, it is finding a new life all over the praying world, possibly because of world events. It is often known as 'AN PAIDRIN BEAG' – THE LITTLE ROSARY. THE LONG NARROW CROSS (Penal cross) was traditionally thought to come from the need to hide it under one's sleeve as if caught praying the rosary, it could mean death. But they were carved from wood and sold to pilgrims who came to the holy site 'Loch Derg". Arms were kept short as they had a tendency to break off. This practical response made it possible to hide up the sleeve.
---
ALL OUR MEDALS: All our medals are handcast from antiques and vintage pieces in sterling silver and solid bronze then antiqued to restore original patina.
---
PRICING SUBJECT TO CHANGE WITHOUT NOTICE. (pricing determined by gram wt of precious metal at time of casting)
20% DISCOUNT APPLIED BELOW UNTIL GONE
BRONZE: ($218) your special price $174.40
STERLING ($344) your special price $275.20
PRICING SUBJECT TO CHANGE WITHOUT NOTICE: (pricing determined by gram wt of metals at time of casting)