KATERI TEKAKWITHA CENTER – Europe/late 19c (.75 in.) – RC.SKT.01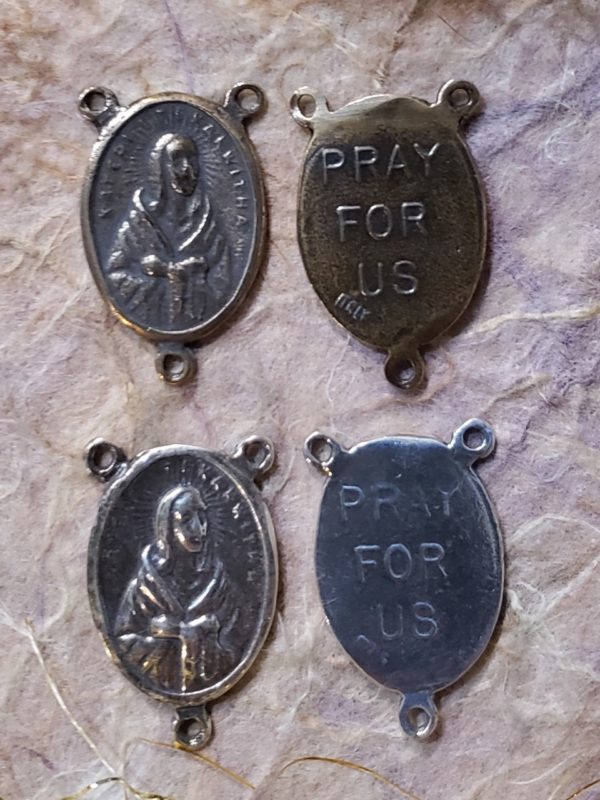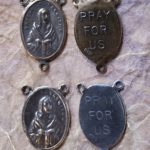 Description
KATERI TEKAKWITHA CENTER – LILY OF THE MOHAWKS – (Our brand new saint) (1656 – April 17th 1680) Blessed Kateri Tekakwitha Mohawk: "Te-kak-wee-da" also known as 'Lily of the Mohawks' Anglicized as "Kateri" Katherine was a 24 year old Algonquian Native American religious lay woman from New France (present-day New York) and an early convert to Christianity after being shunned by her family and pagan tribe.
Known for her chastity and corporal mortification of the flesh, she is the first Native American woman to be venerated in the Roman Catholic Church. Tekakwitha was beatified by the Blessed Pope John Paul II in 1980 and is scheduled to be canonized by Pope Benedict XVI in October 2012.
She followed the generation of Saints John de Brebeuf, Isaac Jogues and companions from the North American Martyrs confirming the ancient belief that "the blood of martyrs is the seed of the church". (Tertullian (c. 160 c. 220 AD)
REVERSE: "Pray for us"
---
THE BLOOD OF THE MARTYRS IS THE SEED OF THE CHURCH
Kateri Tekakwitha (1656 -1680, also known as the 'Lily of the Mohawks' was born in what is now known as Auriesville New York. Not by chance, the home of the National Shrine of the North American Martyrs. The eight Martyrs died from 1646 to 1649, and it would only be 7 years before Kateri was born, giving life to the words above, the blood of the martyrs is the seed of the church – (Tertullian (c. 160 c. 220 AD)
See following link for further info on website for Kateri:  http://www.rosaryworkshop.com/RSTS-21523-Kateri.html#MORE
---
ABOUT OUR MEDALS: All medals on our website are hand cast from antiques and vintage pieces in sterling silver and solid bronze then antiqued to restore original patina.
---
PRICING SUBJECT TO CHANGE WITHOUT NOTICE:  (pricing determined by gram wt of metals at time of casting)
BRONZE = $10  (shown top)
STERLING = $27  (shown bottom)
(actual size:  .9375 in. H x .5625 in. W, including bails)
PRICING SUBJECT TO CHANGE WITHOUT NOTICE: (pricing determined by gram wt of metals at time of casting)