LADY OF CARIDAD II – water – fire agate / wood – rosary (8 mm. – 24 in.) – RDND.21341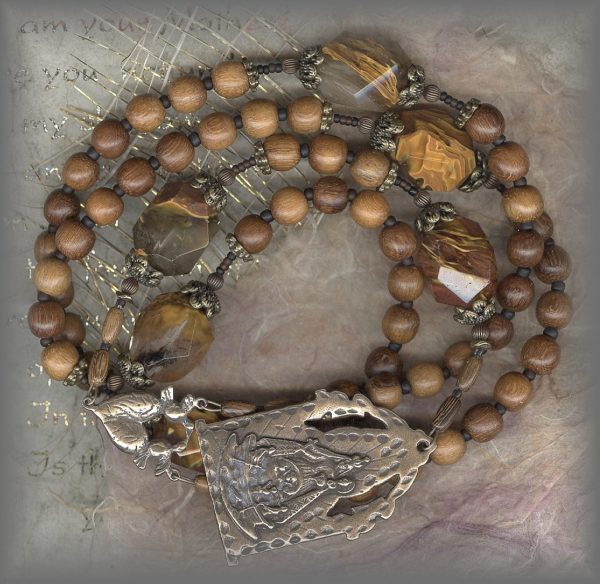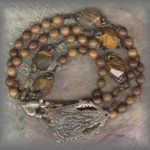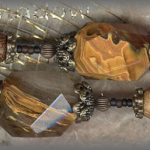 Description
LAKE OF CARIDAD ROSARY: Also known as OUR LADY OF THE STORM.
AVE BEADS: 8mm Natural wooden beads.
PATER BEADS: Each hand cut faceted Fire Agate crystal has copper colored inclusions, no two alike. Antiqued medal caps frame each Pater.
MEDAL: PATRONESS of CUBA – antique, Cuba/19c – (1.25 in.)"
CENTER: BIRDS with HEART – antique, Latin America/19c – (1 in.)
---
HISTORY OF OUR LADY OF THE STORM
In 1687, Juan Moreno shared the following: As the three were going to the salt mines in their canoe when a violent storm arose. The waves rocked their tiny boat violently. Juan, the slave boy, was wearing a medal of the Virgin Mary. They began to pray for her protection. By morning the sea was calm and they left before daybreak in their canoe for the salt mines.
They saw something white above the foam that seemed to be coming towards them. The closer it got the more they realized it was Our Lady holding a baby floating on top of a small wooden plank. A tablet read "Yo soy la Virgin de la Carded" I am your Lady of Charity. He continued to share that the Virgin was also dressed in real clothes and had real hair! Her skin color was that of a "mulatto", or a woman of mixed race. Her clothing was dry. Juan Moreno was 85 years old when he formally testified and this evidence may still be found in the General Archives of the Indies in Seville.
THE STATUE WAS GONE
They took the statue to a local official who ordered a chapel built in her honor. One night, a visitor entered the locked chapel and discovered the statue was gone. A search party was unable to find it but the next morning, it was back. This happened 3 times. They decided she wanted to be in another place so the people of Barajugua took the statue to El Cobre and became known as "Nuestra Senora de la Caridad del Cobre or "Our Lady of Charity of El Cobre". But she did not stay there either.
One day a young girl, Apolonia, while chasing butterflies and picking flowers, saw a statue on top of a small hill near the Sierra Maestra. Even though no one would believe her, eventually the statue was moved back to where she was discovered. This beautiful spot called Orient (El Cordoba) would be where freedom would be won for the black slaves (1886). It would also be where the Cubans began to revolt against the Spaniards. She is not as familiar to us under this name as is Our Lady of Guadelupe who is the patron of the Americas and of the Pre Born but still the same Lady! She was named patroness of Cuba by Benedict XV in 1916.
---
ALL OUR MEDALS: All our medals are handcast from antiques and vintage pieces in sterling silver and solid bronze then antiqued to restore original patina.
---
PRICING SUBJECT TO CHANGE WITHOUT NOTICE (pricing determined by gram wt of precious metal at time of casting)
BRONZE: ($194) your special price $155.20
STERLING: ($272) your special price $217.60
PRICING SUBJECT TO CHANGE WITHOUT NOTICE: (pricing determined by gram wt of metals at time of casting)