LADY of KNOTS CHAPLET- vintage handmade beads / lampwork – (7 in.) – CRMK.21300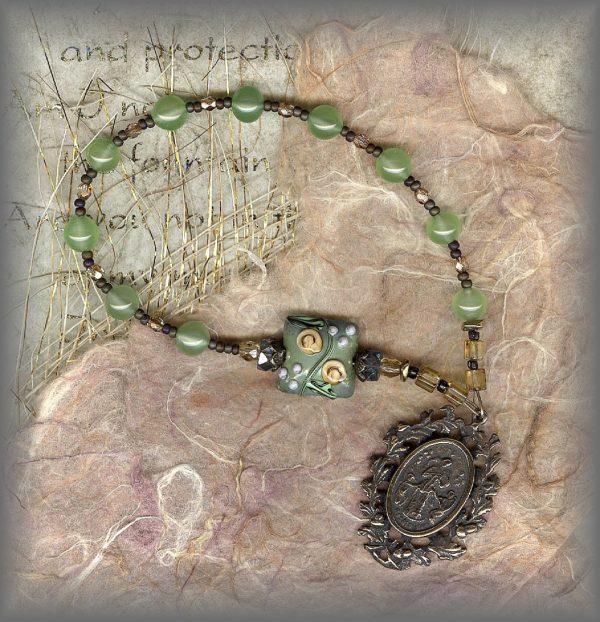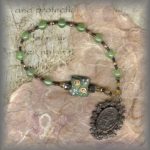 Description
CHAPLET of OUR LADY of KNOTS 
AVE BEADS: Vintage soft spring green beads individually hand made by Willie Wilhelm (Germany 1950's)
PATER BEAD: Handmade by an American Artist using the lampwork technique. Symbolizing new growth and hope that comes from the untying of the knots in the ribbon of our life, the forgiving of our individual sins that cause the knots in our life. Very limited – check for availability.
MEDAL: 'WREATH I' – 'filigree wreath' – (1.25 in) OUR LADY UNDOER OF KNOTS
---
"And so the knot of Eve's disobedience received its unloosing through the obedience of Mary;  for what Eve a virgin, bound by incredulity,  Mary, a virgin, unloosed by faith."……. ST IRENAEUS
---
ABOUT OUR MEDALS: All crucifixes, crosses, centers and medals are hand cast from antiques and vintage pieces in sterling silver and solid bronze then antiqued to restore original patina. All available individually and may be seen by going to SUPPLIES.
---
PRICES SUBJECT TO CHANGE WITHOUT NOTICE (pricing determined by gram weight of precious metal at time of casting). Antique beads very limited, unable to replace.
20% DISCOUNT APPLIED BELOW UNTIL GONE:
BRONZE: ($130 your special price $104
STERLING ($208) your special price $166.40
PRICING SUBJECT TO CHANGE WITHOUT NOTICE: (pricing determined by gram wt of metals at time of casting)