LARGE BUDDING LILY CRUCIFIX – Russia/unknown (2.25 in.) – SS.CRX.035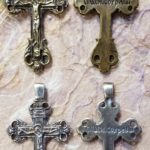 Description
LARGE BUDDING LILY CRUCIFIX: Design is early but we do not know era or origin other than European.
Part of our Samsara Collection.
---
SHARED BY ELIZABETH STEWART: 'This is actually a Russian piece, as the back has the standard blessing "Spasi i Sokhrani" (Save and Protect) and I would hazard a guess that the small round item below the feet of Christ is the usual skull of Golgotha, as this is normally what appears there on Russian crucifixes. Not sure of the vintage, but it's definitely from Russia. Hope that helps you out with your listing.'
Thanks Elizabeth – great info we missed and yes the skull of Adam at the bottom of the cross – an ancient tradition carried by the Jews, thus Golgatha (place of the skull).
---
ABOUT OUR MEDALS: All crucifixes, crosses, religous medals and rosary centers on our website are hand cast from antiques and vintage pieces in sterling and solid bronze then antiqued to restore original patina.
---
PLEASE NOTE:  When trying to match up SAMSARA pieces with NON-SAMSARA pieces we will personally help match them for you.  Some of the metals/antiquing Samsara used in his old pieces do not match our own pieces, especially the Bronze can be very off color.  Please contact us if you need help!
---
PRICING SUBJECT TO CHANGE WITHOUT NOTICE:  (pricing determined by gram wt of metals at time of casting)
*(ONLY A LIMITED AMOUNT OF ORIGINAL SAMSARA PIECES LEFT!  TO BE RECAST)
BRONZE = $20  (shown top)  ONLY (24) BRONZE LEFT IN STOCK  *(TO BE RECAST)
STERLING = $35  (shown bottom)  (SOLD OUT)  *(TO BE RECAST)
(actual size: 2.25 in. H x 1.25 in. W, including bail)
PRICING SUBJECT TO CHANGE WITHOUT NOTICE: (pricing determined by gram wt of metals at time of casting)