LARGE LORD OF MIRACLES MEDAL (single sided)- antique, Peru/19c – (2 in.) – M.LOM.2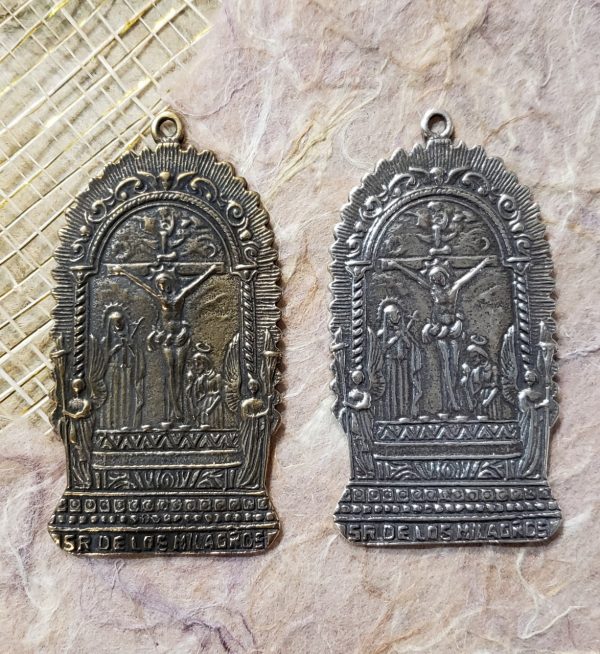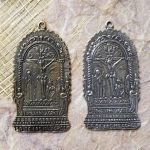 Description
LARGE LORD OF MIRACLES MEDAL (Single Sided): Señor de los Milagros (the Lord of Miracles), is the patron saint of Lima. Every October for over 350 years, there is a major celebration including nearly 2 million people who celebrate in a procession that includes this enormous image shaped like the medal shown here. It is carried on the shoulders of the cargadores, or "carriers", an esoteric brotherhood charged with transporting the heavy statue. Dancing, incense, music and chanting are all a part of this remarkable event along with special foods. Purple is the color of the participants which includes those who have received a miracle, who will wear the color for up to a year in thanksgiving.
FIGURES: Standing: Our Lady, Mary with a pierced heart, Kneeling: Mary Magdalene.
SEE ALSO:  (M.LOM.1) – Small Lord of Miracles Medal:   https://store.rosaryworkshop.com/shop/small-lord-of-miracles-medal-double-sided-antique-peru-19c-1-5-in-m-lom-1/
---
350 YEARS OF HISTORY – EARTHQUAKES ETC Certainly a beautiful medal for today on an earth that suffers overwhelming earthquakes, tsunamis, hurricanes, tornadoes and other unexpected brutal changes in weather patterns.
THE STORY OF THE EARTHQUAKE: In 1651 a picture of a colored Jesus Christ crucified was painted on a wall by an Angolan slave. Four years later on Nov 13, 1655, an earthquake struck Lima. Most of the city was leveled, but that image painted on the wall of Jesus was undamaged. It's believed that this image has been the occasion of many miracles. People believe that the closer they get to the image, the better chance of getting their miracle granted.
---
ABOUT OUR MEDALS: All medals on our website are hand cast from antiques and vintage pieces in sterling silver and solid bronze then antiqued to restore original patina.
---
PRICING SUBJECT TO CHANGE WITHOUT NOTICE: (pricing determined by gram wt of metals at time of casting)
BRONZE = $25  (shown left)
STERLING = $47  (shown right)
(actual size: 2.1250 in. H x 1.0625 in. W, including bail)
PRICING SUBJECT TO CHANGE WITHOUT NOTICE: (pricing determined by gram wt of metals at time of casting)