LARGE SHELL ROSARY SET – origin/era unknown (2.75 in.) – EQ.598/EQ.601 SET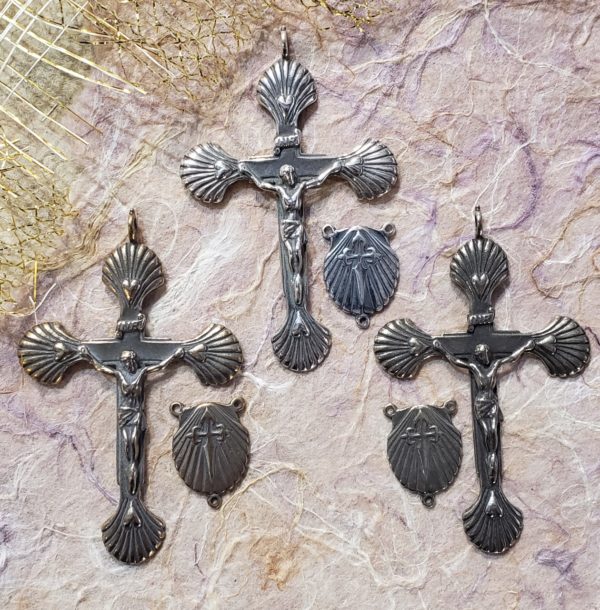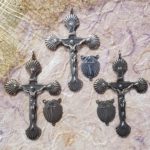 Description
LARGE SHELL ROSARY SET – A powerful set for larger rosaries. The shell is an old symbol in the church. It represents Baptismal waters and is often imaged in paintings and is often used in Baptisms to pour the water over the head of the one being baptized.
Part of our Equatoria Collection.
---
CROSS OF SANTIAGO de COMPOSTELA: (thanks to Maura C who shared: [This] Shell Crucifix (see rosary center) is the Cross of Santiago de Compostela, Galicia, Spain. The shell was the emblem picked up by the Pilgrim en route and the stylized Cross on the Shell centerpiece is said to be a copy of the sword wielded by St. James (St. Diego) the Moorslayer when he appeared miraculously mounted on a white charger to help Charlemagne rid Spain of the Moors. (The Cross is always depicted in red.)
---
ABOUT OUR MEDALS: All medals on our website are hand cast from antiques and vintage pieces in sterling silver and solid bronze then antiqued to restore original patina. Now available in White Bronze.
---
PRICING SUBJECT TO CHANGE WITHOUT NOTICE:  (pricing determined by gram wt of metals at time of casting)  PLEASE NOTE THIS IS A SOLID STURDY PIECE FOR ITS SIZE HENCE THE EXPENSIVE PRICE FOR (STERLING).
BRONZE = $41  (shown left)  (avg. gr. weight = 13.3)
STERLING = $129  (shown center)  (avg. gr. weight = 15.9)
WHITE BRONZE = $35  (shown right)  (avg. gr. weight = 11)
(Center, actual size:  .8750 in. H x .6250 in. W, including bails)
(Crucifix, actual size: 2.8750 in. H x 1.8125 in. W, including bail)
PRICING SUBJECT TO CHANGE WITHOUT NOTICE: (pricing determined by gram wt of metals at time of casting)