LATIN CROSS PENDANT WITH CHAIN – Bronze (2 x .75 in.) – JPS.6066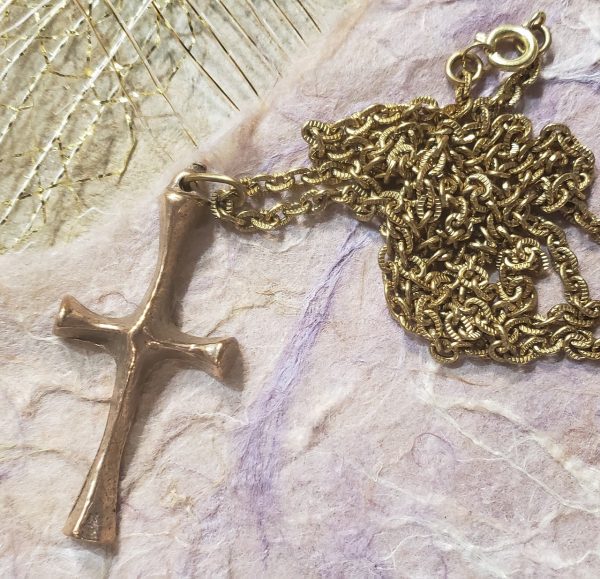 Description
LATIN CROSS PENDANT WITH CHAIN: The Latin Cross Pendant is a popular Christian pendant that features elegant, tapered arms and an eye-catching polish. This cross is popular among both men and women, and additionally makes an excellent Christian gift. Popular for events such as confirmation and RCIA. Also great for Alter Servers.
This Latin Cross Pendant is a great antidote to "spiritual amnesia," a way to remind ourselves of the fact that every moment we live in this wonderful universe, we are surrounded and greeted on all sides by the sacredness of existence. Even the smallest grain of sand bears an unfathomably rich testament to the sacred history of our earth. Give it as a gift for yourself to help cultivate awareness of this sacredness, or give it as a gift to a loved one to help spread the awareness of the sacredness of each moment.
Part of our Creator Mundi Collection.
---
ABOUT THE MONASTERY OF MARIA LAACH: For over 50 years Maria Laach has offered religious cards, icons, and bronzes of high quality. There are about 80 Monks, assisted by Lay people in the production of these works sold all over the world. The grounds of the Monastery are also a sign of their large agricultural business. Their more recent works include gates and garden art. Our visit in 2007 gave us an incredible sense of this very blessed community.
---
PRICING SUBJECT TO CHANGE WITHOUT NOTICE:  (pricing determined by gram wt of metals at time of casting)
*NOTE: THIS ITEM HAS BEEN DISCONTINUED AND WE CAN NO LONGER REORDER
JPS.6066 – LATIN CORSS PENDANT = Reg. ($24) Special Price $22  *ONLY (16) LEFT IN STOCK
(actual size: 2.0625 in. H x .8750 in. W, including bail)
PRICING SUBJECT TO CHANGE WITHOUT NOTICE: (pricing determined by gram wt of metals at time of casting)